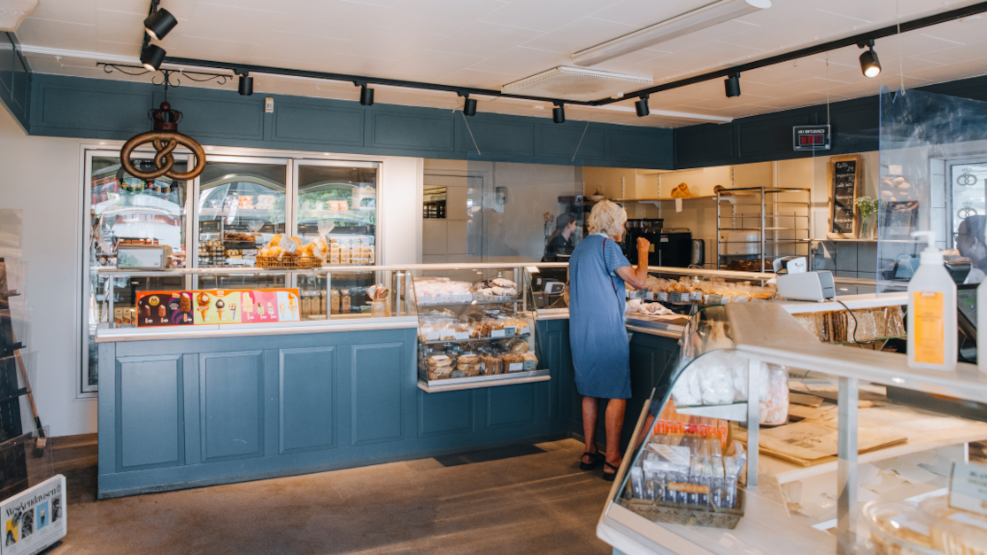 Din & Min Bager in Liseleje | Traditional bread and tempting cakes
Welcome to Din & Min Bager in the heart of Liseleje - where you can rediscover the old cosy shopping experience and start your day with a smile! The bakery embodies tradition, quality, and a homely atmosphere.
Every morning, you will meet our talented bakers who meticulously craft high-quality bread with great care and love for their craft.
We follow our family's good old traditions and secret recipes for generations. This means you can find the most delicious bread, long-fermented and baked in authentic stone ovens. That's how bread should taste - crispy on the outside and wonderfully soft on the inside.
But we don't stop at bread. As the afternoon approaches, we tempt you with an irresistible selection of cakes and tarts. Our pastry chef is a true master; each mouthful will take you on a sweet journey. Enjoy your favourites on the terrace, where you can bask in the sun's warm rays and savour the scent of freshly baked bread.
Life in Liseleje
Din & Min Bager is more than just a bakery. It is part of Liseleje's unique atmosphere and charm. The town, being seasonally vibrant, offers an abundance of experiences. Start your day by walking along the beautiful beach, where you can feel the sea breeze and hear the waves gently lapping against the shore. Take the kids to the Nature Playground, where their imaginations can run wild, and the joy in their eyes will melt your heart.
If you prefer activities, test your skills on the mini-golf course, where you can compete with friends and family in a fun and competitive atmosphere. Take a stroll in the nearby forest and let the beauty of nature soothe your soul. Liseleje is rich in treasures, and the bakery is just one of them.