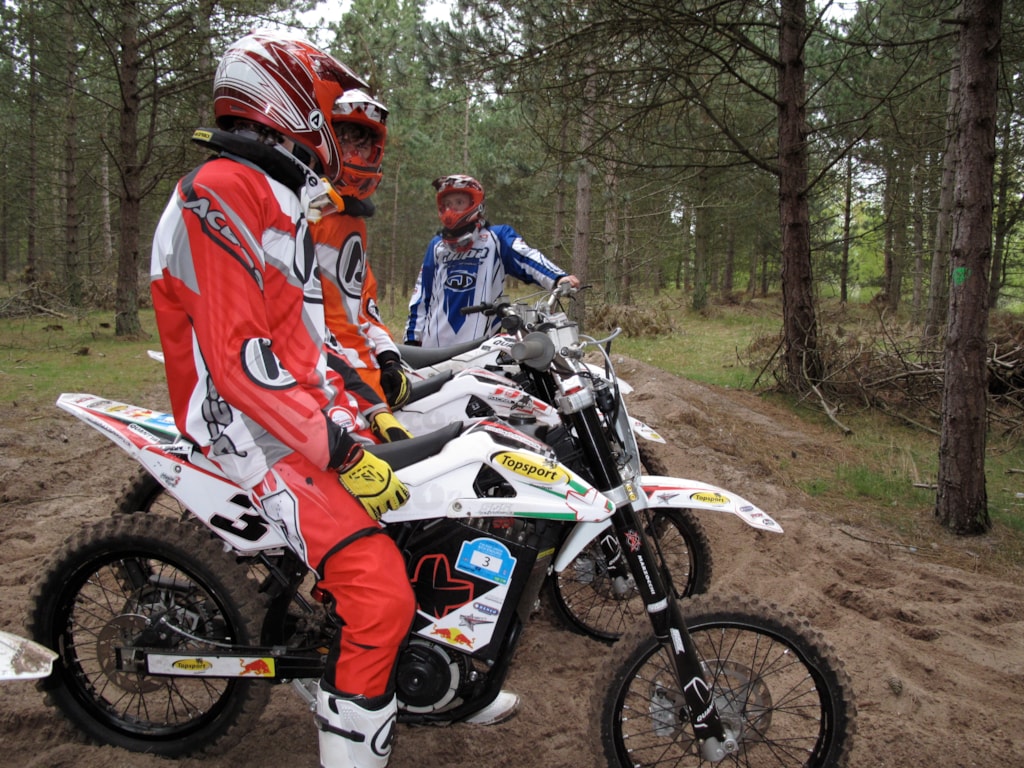 Enduro Eco Adventure
Moving silently through nature on a lightning-fast electric off-road motorcycle is an indescribable experience – come and give it a go!
Trips are conducted in groups of up to eight people with a guide. The first trip takes about two hours including changing, instruction and driving. Driving time in the terrain lasts about one hour. Subsequent trips: One hour's charge – one hour's drive.
How difficult is it? If you can ride a mountain bike in natural terrain, you can definitely drive a Quantya Evo1. Just like a bike, all the controls are on the handlebars – the throttle and both brakes. No clutch – no gears. The day starts by changing into your MX gear, followed by instruction in safety and driving. All participants drive a number of rounds on the test track to become familiar with the motorcycle. Then everyone sets off into the terrain at the same time.
Challenge and Action We start on the easy tracks and gradually increase the difficulty; even experienced MX and Enduro drivers will be challenged. If you decide to go for multiple trips, you will discover that the area offers many different tracks and challenges.
Security Cross and safety gear is available in adult sizes. But you are of course welcome to bring your own MX clothing. The minimum age is 18. You can participate if you are younger – but you must bring a valid cross license, as well as a parent or guardian who must give their permission for you to participate. The driving takes place on dedicated tracks which rarely cross paths or hiking trails. We ask that the greatest possible consideration be shown for the wildlife, forest visitors and any drivers we meet along the way. NOTE: As a participant, you must sign a statement that the driving takes place at your own risk – and you must agree that the instructor can interrupt your trip at any time if you are deemed a danger to yourself or others.
It is also possible for younger children, from 5-14, to ride electric motocross, where we will alternate between micro, mini and maxi and riding on the BMX track at the football field. Read more on the website