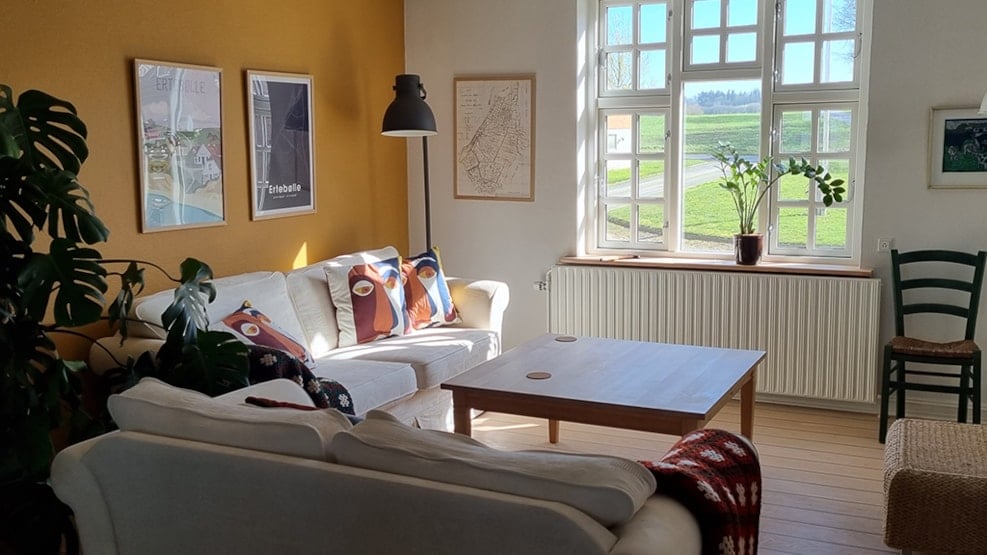 Gøttrupgaard Holiday and B&B
Gøttrupgaard Holidays offers vacations in beautiful surroundings - amidst nature and close to culture and great experiences.
You can stay in your very own farmhouse at Gøttrupgaard with room for 13 people, or you can choose a Bed & Breakfast in the annex.
Gøttrupgaard is an old manor farm that now belongs to Anne-Louise and Torsten P. Wetche. They themselves live on the neighboring farm, Hvanstrup, which is also an old family estate that is operated organically with dairy cows. They supply grass milk to Thise Dairy. It is possible, by appointment, to visit Hvanstrup and see the cows being milked.
Keywords for us are biodiversity, ecology, and naturalness.
Gøttrupgaard Ferier is beautifully located in nature with a large garden and views of meadows and fields with many opportunities in the area. Hiking right outside the door on fields, forests, and meadows, or in Uhrehøje and Skovbakkerne on the Louns peninsula. In Uhrehøje, there are also mountain bike trails.
Trend Å is known for good fishing, and here we have our own stretch of river of 3 km, so it is possible to catch your dinner. About 10 km away are Trend and Ertebølle's nice beaches by the Limfjord.
In Vesthimmerland Municipality, there are 4 golf courses in Løgstør, Hvalpsund, Aars, and Gatten.
See more here!