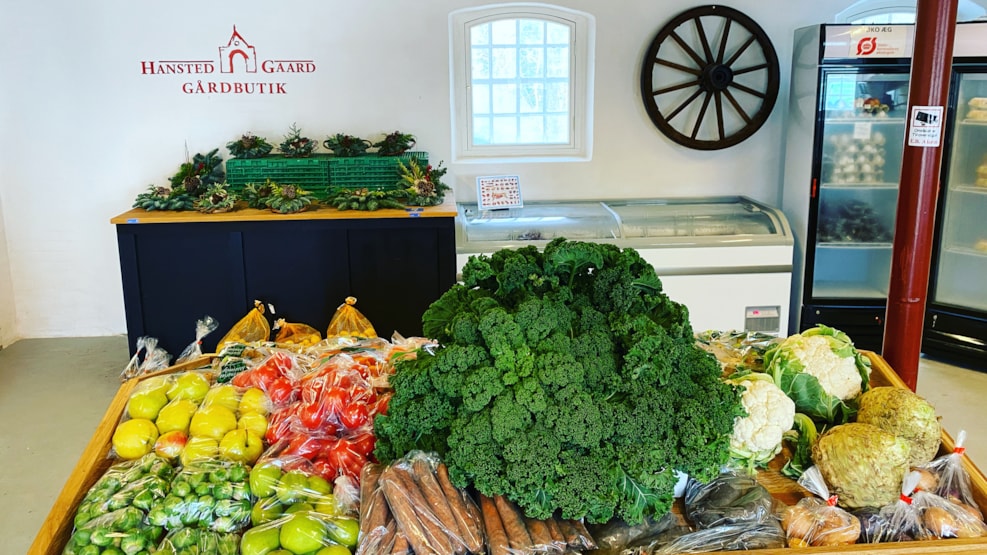 Hanstedgaard Farm Shop & Bakery
Hanstedgaard Farm Shop in Horsens offers a wide range of local, ecological products, such as vegetables and baked goods. With a location only 10 minutes from Horsens city center, and 5 minutes from the attraction THE PRISON, a visit to Hanstedgaard is a quick addition when sightseeing in Horsens. 
A little bit of countryside in the middle of the city 
Not far from THE PRISON, the hotel Scandic Opus Horsens, and downtown Horsens, you'll find historic Hanstedgaard manor house, which dates back to the 13th century. Today the manor is owned by the young couple Brigitta og Emil, who recently opened a charming sustainable farm shop at the premises. Here, you can shop their organic produce, baked goods, soups, meats and other local and organic products. 
Carefully selected produce from farm-to-fork
With high standards in terms of quality - and heartfelt values about the importance of organic and sustainable farming - Hanstedgaard offers products which are made with the wellbeing of both humans and animals, as well as the environment in mind. In the farm shop you can get patatoes and strawberries from the farm's own harvest, and locally produced fruits, vegetables and other ingredients - all during their respective season.
You can also purchase the farm's own meats from their free range Highland cattle, organic eegs from the farm Dueholm, ice-cream from Vebbestrup, and a wide range of other free-from products. 
Hanstedgaard micro-bakery
Hanstedgaard has its own micro-bakery, which produces sourdough rye bread, cold fermentet bread rolls, artisan bread and various cakes. Everything is made with organic ingredients. The micro-bakery is open during the farm shop's opening hours. 
From christmas trees to custommade woodwork
Throughout the year Hanstedgaard throws different events. During december the farm shop converts into a small christmas market. The rest of the year other small events, such as 'taste-days', other market days, show rooms with the farm's own woodwork, and small cultural happenings, are possible to attend. Go see Hanstedgaard's Facebook page to stay updated on coming events, current offers, and other relevant information. 
Opening Hours at Hanstedgaard
The farm shop's opening hours vary depending on the season. 

At Hanstedgaards web page you can find current opening hours and plan your next visit.