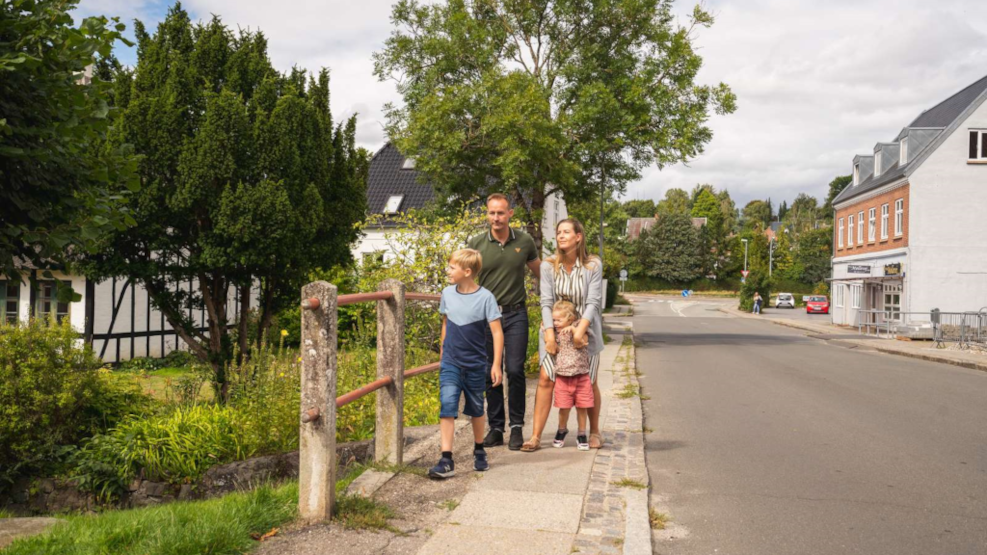 The Heart Path in Odder
This 5,7-kilometre-long signposted hiking route takes you around the centre of Odder. The path leads to many of the city's significant buildings and green oases. The majority of the route is located on paths in calm urban surroundings.
Waymarked hiking route in the heart of Odder
Explore Denmark's biggest village on this hiking route that leads you through the centre of the lively commercial town on fine peaceful paths. The route takes you to many of the city's most significant buildings such as the town hall, the museum, the library, the old police station, and the hotel, but you will often see it from the backside on paths located away from busy roads, allowing you to see the city from a different perspective.
The route consists of two loops – a 3,6-kilometre-long northeastern loop and a 2-kilometre-long southwestern loop. You can combine these two loops into one route of 5,7 kilometres. The route is waymarked with arrows and a mark for every kilometre you have walked.
Combine with shopping and a good meal
Since the route goes through the centre of town, you can easily combine the hike with a number of other activities. The route touches the city's pedestrian street Rosensgade and leaves it at the Police Square. If you choose to start here, we recommend that you go for a stroll though the street, visit shops or enjoy a nice lunch and cold drinks at one of the eateries in town. When you pass Odder Museum, you ought to step inside and learn more about the history of the city and the region.
Follow the route with this digital map
You can follow the signposts around the route. Alternatively, you can follow this digital map (Google Maps) that shows exactly where you are on the route via GPS location. The map also shows you parking lots and points of interest.
About heart paths
Heart Paths (Hjertestier) are waymarked hiking routes that make it easy for you to get exercise where you are. The routes are typically located in the cities where people live. The paths are found all over Denmark.
The closest Heart Paths are in Saksild, in Horsens and Aarhus.
Are you walking with children
Then consider the Odder Treasure Hunt. On this trip you will also walk through the centre of Odder. Along the way, you will answer questions about what you see, and receive a nice, free medal as a souvenir.