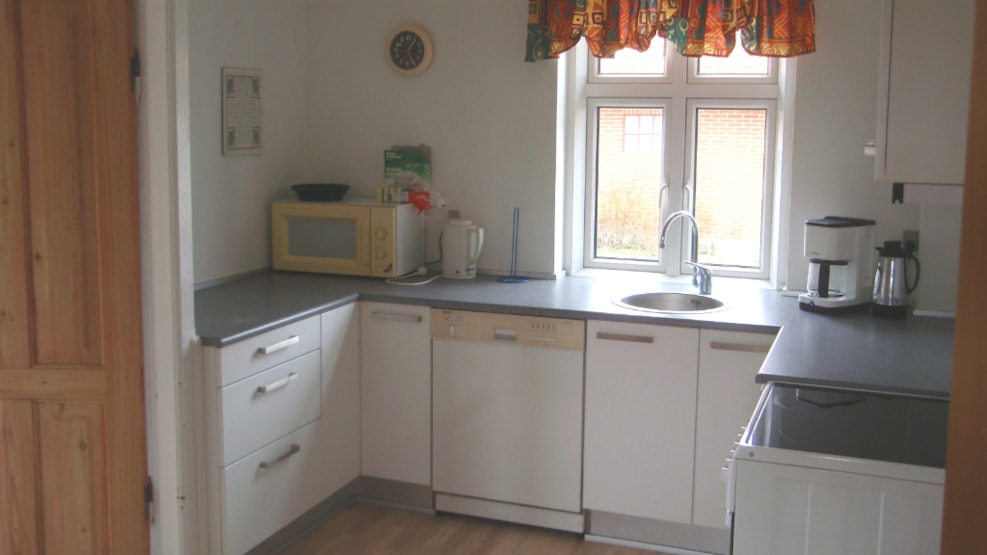 Jørgens Minde
On the south side of Horsens Fjord, close to the beach and nature experiences, this holiday accommodation is situated in peaceful rural surroundings. It serves as the perfect base for families vacationing around Horsens and for hikers exploring the Fjordmino.
Spacious Holiday accommodation near Horsens Fjord
Located near the village of Sejet, this rural property offers private accommodation throughout the year. The property includes a small farm on the premises. From the house and the large southeast-facing terrace, there are glimpses of the fjord and beautiful views of vast fields. If you continue to the end of the peaceful road, you'll find a lovely beach with stunning views of the fjord.
Space for the whole family
The holiday accommodation at Jørgens Minde provides an ideal setting for groups of all sizes. It consists of one family apartment for 6-8 people with a living room, 2 bedrooms, and a kitchen with a dishwasher. There is a toilet and shower on the ground floor.
Additionally, on the first floor, there is one double room and two single rooms, which can be booked together or separately. On the first floor, there is a common living room, toilet, kitchen, and bathroom.
There are TVs in the living rooms on both floors, and the entire building offers free Wi-Fi. Guests also have access to the garden with patio furniture and a grill.
Prices and booking
There are various options available at Jørgens Minde, ranging from single rooms to the entire building with 11 sleeping spots. Please contact Jørgens Minde to inquire about availability and options for your specific group.
Price per night:
Single room: 300 DKK
Double room: 500 DKK
Family room: 1000 DKK
Family apartment: 1000 DKK
Nearby experiences
Jørgens Minde is located near the village of Sejet on the south side of Horsens Fjord, along the main road between Horsens and Juelsminde. The centre of Horsens is approx. 8 kilometers from here.
Jørgens Minde is perfectly situated for exploring the Fjordmino, the hiking and cycling route around Horsens Fjord. If you follow the route westward, you'll reach Boller Forest, where you can visit Boller Castle. The village of Glud is east of Jørgens Minde, known for Glud Museum. So is the harbour town of Snaptun, which offers ferry connections to Hjarnø and Endelave islands.