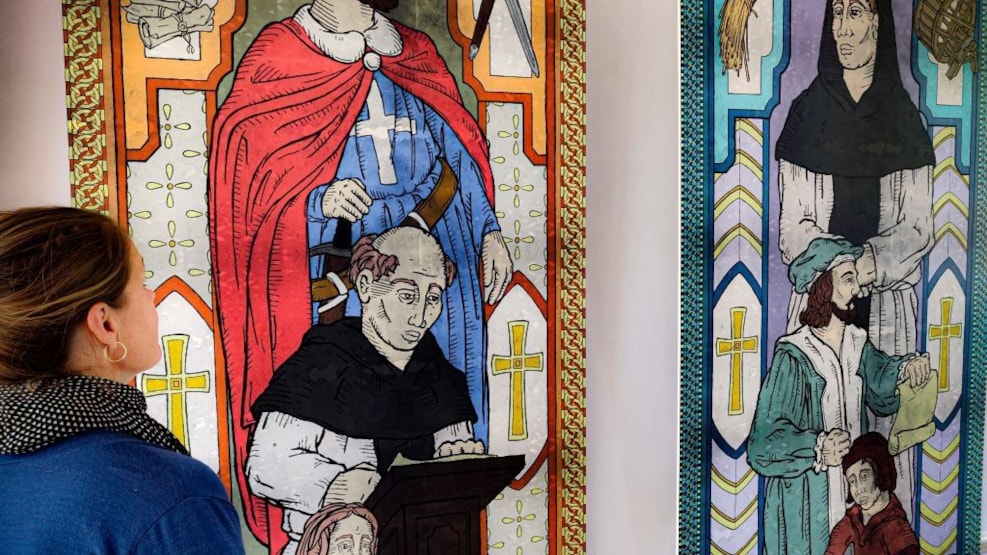 Power - In Heaven´s Name | Esrum Kloster
The exhibition "Power in Heaven's Name" dives into the exciting history of the monastery from its founding to its demolition. Esrum Monastery had power in the Middle Ages - religiously, economically and politically. With the help of virtual reality, you will embark on a fantastic journey around now-disappeared monastery buildings, only to finally ascend to heaven!
Although Esrum Monastery was founded way back in the year 1151, the place is in no way suffering from the technological scare. So when you visit the historic monastery in North Sealand, the exhibition "Power in Heaven's Name" uses virtual reality and comics in communication.
Today, only a tenth of the original monastery complex remains because King Frederik II demolished it after the Reformation. But in the Middle Ages, Esrum Monastery was huge and stood directly under the pope's protection. It was a power factor - religiously, economically and politically. The exhibition "Power in the Name of Heaven" dives into the history of Esrum Monastery - seen from a power perspective.
On-time travel with VR
With the help of virtual reality, you get a surprisingly realistic experience of being in the original monastery at the exhibition. You move around in long-lost buildings, walk through corridors and corridors, come out into the beautiful fraternal courtyard and the magnificent monastery church. Finally, you ascend to heaven (!) And get an excellent overview of the area and a perspective on how large the monastery complex has been.
Frescoes and comics
Exhibitions are built around drawings: Comics and medieval comics, frescoes. You follow the monastery's history from its foundation to its demolition through illustrations with many delicate layers and details. The images are spiced with the sound that clarifies the monastery's powerful past.
Get to know the lives of the monks.
Also, visit the permanent exhibition "The Man in the Monastery" where you get close to the lives of the people who lived their lives behind the walls through sound and light installations.
Games about the Reformation
If you and your family are into games, you can try out "Faith, Power and Chaos", a play about the dilemmas of the Reformation.
Visit the café, the shop and the new lounge.
The mill café is again open for indoor serving and entices with delicious lunch. Settle down in the monastery cellar's new lounge with coffee and cake or maybe a monastery beer, but you digest the impressions. The store is open again, as usual, Tuesday - Sunday.
Practical information
What: Exhibition "Power in Heaven´s Name"
Where: Esrum Kloster, Klostergade 11-12, Esrum, 3230 Græsted
When: All year round
Opening hours: Tuesday - Sunday at 10 - 16, stores 10 - 17.
Admission: Adults: 85kr. Children under 18 are free. NB! There may be other prices during holidays and at events.