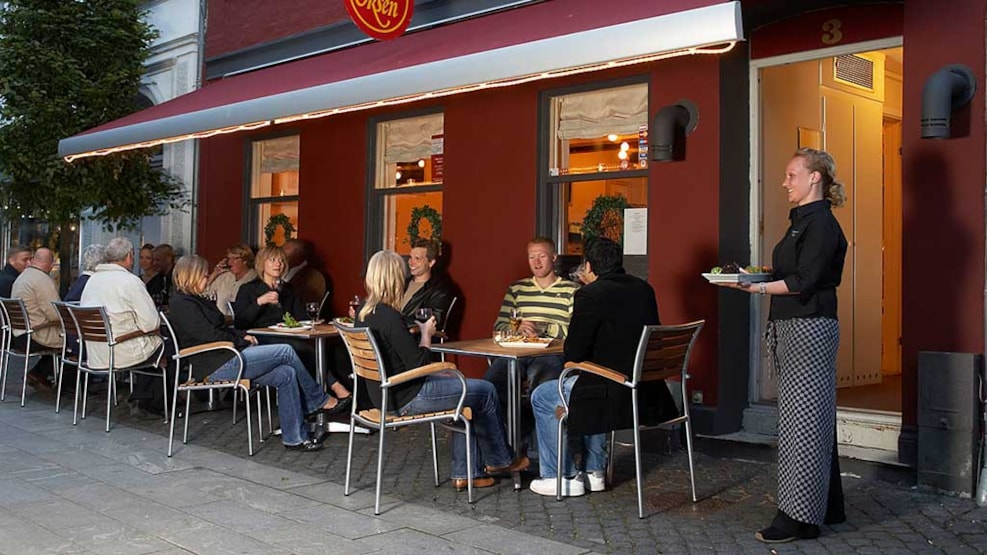 Restaurant Oksen
Visit Horsens' best steakhouse where big, juicy steaks with tasty accompaniment await. You should also consider the delicious brunch/lunch buffet. At Oksen you can look forward to delicious food in cosy and casual surroundings.
Juicy steaks
At Restaurant Oksen you will meet no fine French cuisine or snobbish waiters. Because at Oksen, they stubbornly stick to a concept that has made guests loyally return for more than 35 years. Good steaks, great wine, and a relaxed atmosphere.
The dinner menu is themed indeed – most main courses have a big steak as the core of a solid food experience. The restaurant takes pride in serving tender, well-cooked steaks for all customers. Therefore, there are high demands for the quality of the meat, and only the best manufacturers are used.
When you order a steak, you can choose any type of potato and sauce you want. Furthermore, you get free access to the salat buffet and the soup of the day.
Brunch and lunch
During the day you can enjoy the popular lunch- and brunch buffet. The buffet contains a varied selection of both cold and warm dishes. Breakfast favourites such as scrambled eggs, pancakes, brunch sausage and yoghurt ensure that you get a good start of the day.
Traditional Danish lunch classics such as filled patty shells, warm fish filet, warm liver paste (leverpostej), a selection of cold meat and many different warm dishes will indubitably make your mouth water.
Alternatively, you can order a la carte dishes for lunch such as shooting star (stjerneskud, burgers and of course – steaks.
Table reservation
Restaurant Oksen is open seven days a week both for lunch and dinner. See the current opening hours and reserve your table here (In Danish), or contact the restaurant with your enquiry.