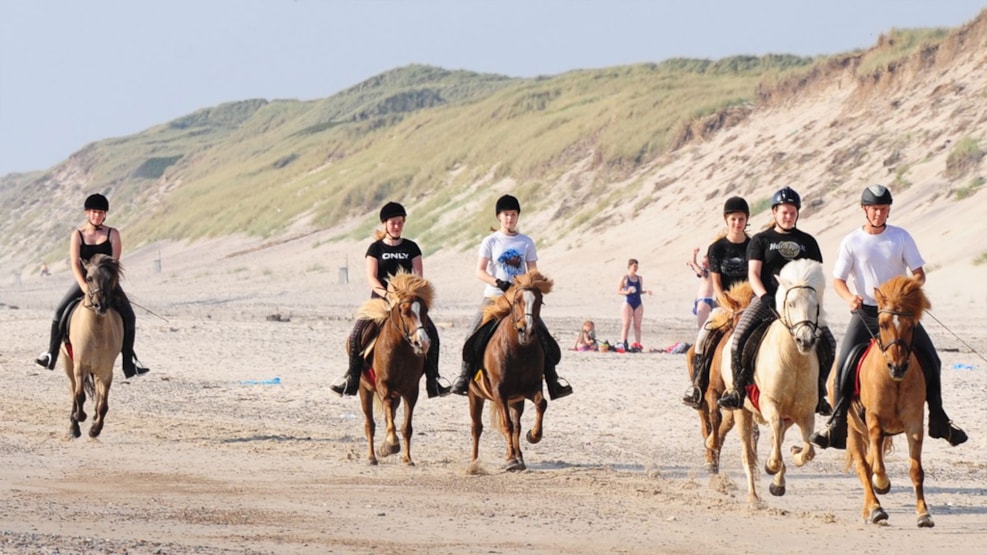 Vedersø Ridecenter/horse riding
If you are on holiday in the beautiful area around Vedersø / Husby Klit, and you want to enjoy the area's impressive nature on horseback - then you have the opportunity here! Vedersø Ridecenter offers tour riding on the beach, in plantations and protected terrain of various durations, depending on your shape and riding skills.
In the middle of the beautiful West Jutland nature you will find Vedersø Ridecenter between Vedersø and Vester husby
At the equestrian center there are a little over 20 beautiful Icelandic horses, many of them were born on the farm. The horses are out all year round, and are divided into groups around the farm fields.
When you go out riding, the riders pick up the horses from the field. Then they must be groomed and saddled. It is important for Vedersø Ridecenter that the horse and rider have time to get to know each other a little. Of course, the place is happy to help the inexperienced rider saddle up.
On the farm's riding arena, you as a new rider can get to know the horse and get the most important instructions before you go out for a ride.
All rides are led by an experienced rider who can provide advice and guidance along the way.
After your pleasant ride you can visit the farm's beautiful riding hall. Here you can have fun with each other over a cup of coffee.