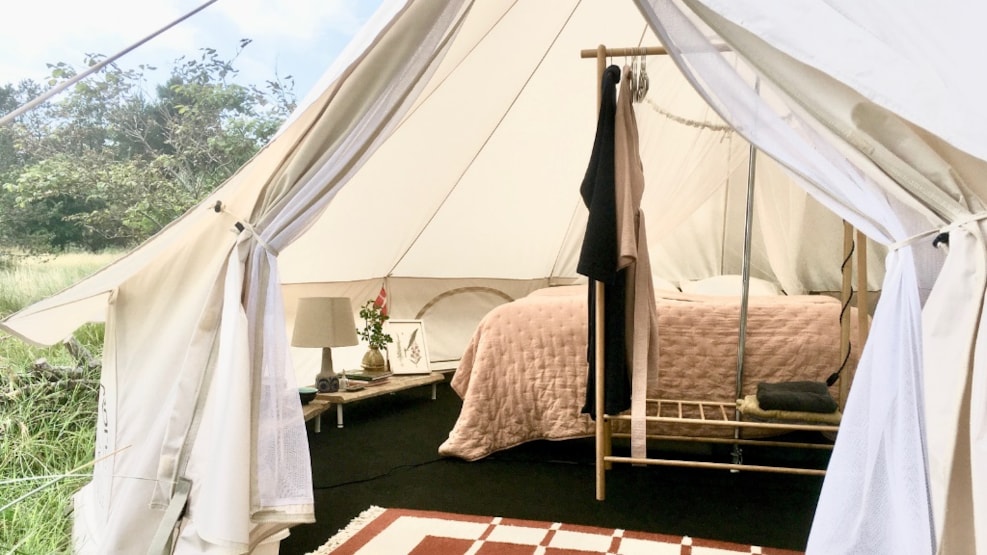 101 Glamping Thy
Experience a one of a kind luxurious outdoor stay in Thy National Park.
101 Glamping Thy offers luxurious accommodation in a tent with lots of comforts. You sleep in a real bed and there is both an outdoor shower with hot water and a toilet with drag and drop. Here, you can explore and let your senses unfold. Enjoy a sanctuary in nature completely without disturbance - there is only one tent.
101 Glamping Thy is located in Stenbjerg, a small village in the middle of National park Thy by the North Sea. Here are no sidewalks, just a beautiful lawn, and well-kept classic fishing houses. The village is known for Stenbjerg Inn, which serves food with ingredients from the National park.
From 101 Glamping Thy, it is just 800 meters to Stenbjerg Klitplantage with cycling and hiking routes. The beautiful Stenbjerg Landingsplads, where the coastal fishermen land the boats, is just 800 from the tent. Here you find active coastal fishing and miles of sandy beach. The National park Thys information center with exhibitions, books, and maps of the area is located in one of the renovated fishermen's houses.
If you drive just 5 kilometers by car to Nørre Vorupør, you are at one of many surf spots in Cold Hawaii. Here are surf schools, cafes, groceries, and shopping. If you continue north, Klitmøller and Hanstholm are located.
Price per night for 2 people: 1,250 DKK with a minimum booking of two nights. 
Incl. bed linen, towels, free access to coffee/tea, cow and plant-based milk, as well as a light breakfast - oatmeal with chia, coconut, raisins, and unsalted peanut butter.