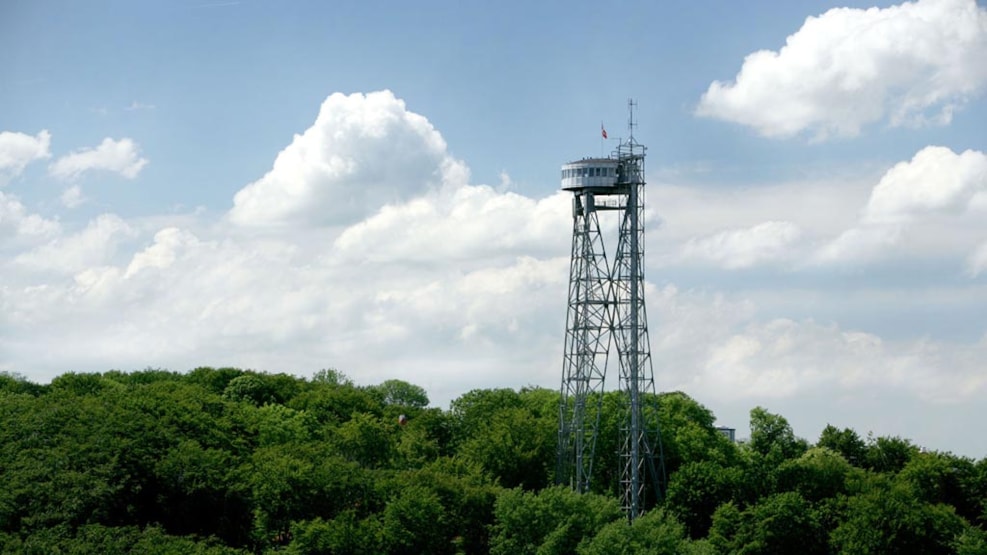 Aalborg Tower
Aalborgtårnet is Aalborg's tallest landmark, allowing you to enjoy a breathtaking view of Aalborg and its surroundings. Take the elevator 55 meters up and enjoy the incredible 360° panoramic view.
As the Aalborg Tower is located on Skovbakken, the platform is 105 meters above sea level. From here, you can enjoy the view with a snack or a drink from the bistro. To get into the Aalborg Tower, you have to ring the bell which is placed on the tower, and an elevator is sent down. The elevator is the highest outdoor elevator of the North of Europe and is an experience in itself.
A view for everyone
The bistro has room for 50 guests, but don't worry: there is view enough for everyone. The 360° panoramic view of Aalborg from the top of the tower provides an opportunity to take a break far away from the hustle and bustle of everyday life.
The Aalborg Tower was built in 1933 for Nordjysk Udstilling (Exhibition North Jutland), and because it was too expensive to tear it down, Det Broderlige Skydeselskab bought it for only DKK 5,000. Even though it was built many years ago, the tower is in tiptop condition. Thanks to a thorough renovation in 2005, Aalborgtårnet is ready to serve its visitors for many years to come. For safety reasons, the tower is closed if the weather is too windy.
Read more about the Aalborg Tower...
Travel sustainably with bus and train in North Jutland
Getting around North Jutland with public transport is effortless. Plan you trip with bus, train or 'Plustur' on rejseplanen.dk.