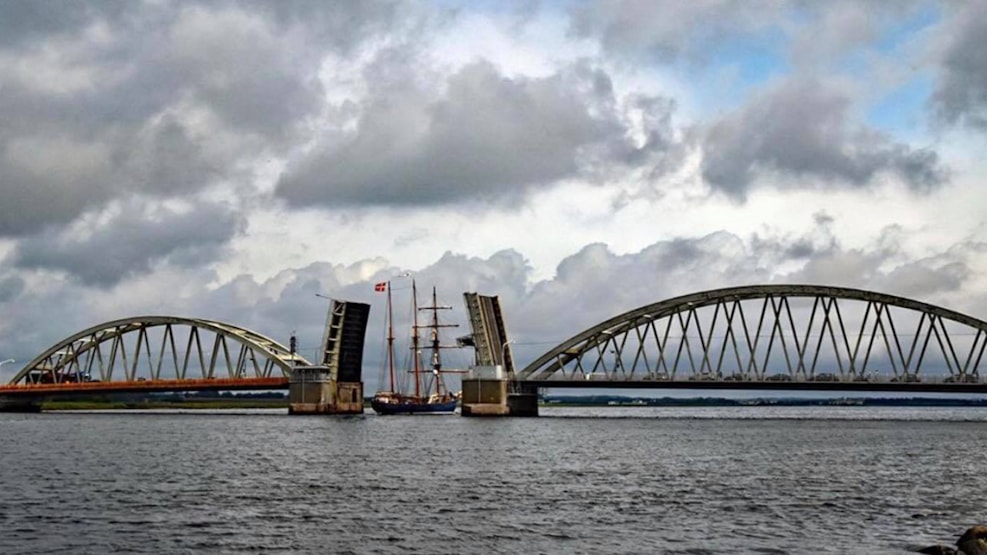 The Aggersund Bridge
Beautifully placed in the flat landscape in the middle of the western part of Limfjorden you'll find Aggersundbroen.
The bridge "Aggersundbroen" is in addition to its breathtaking location by Limfjorden in Himmerland, a bridge that connects Løgstør with Aggersund. Aggersund is a part of the local municipality as well as a part of Destination Himmerland and it is in this area you can find the Viking fortress Aggersborg. 
The bridge is an arch bridge with to big arch sections that makes the bridge noticeable and beautiful in its architectural form. 
Aggersundbroen is also a bascule bridge, which makes it possible for big ships to sail through and makes it possible for ships to sail from the east to the west part Limfjorden. 
The bridge is 220 meters long and approximately 1.3 million vehicles pass each year. 
When crossing the bridge by car you can see (as a passenger) the beautiful landscape and nature surroundings with Limfjorden on both sides. If you are lucky, you can see a seal swimming in the water, or maybe enjoy the sights of the many ships sailing on Limfjorden. 

Aggersundbroen was opened on June 18, 1942. 
Opening hours - for ships 
The bridge is open for passing ships from sunrise to sunset (From 1st november to 1st march the bridge opens half an hour before sunrise) 
Out of opening hours the bridge can be opened by contacting the bridge manager on VHF, Canal 16 ad 12 or by phone: +45 98 22 10 52.