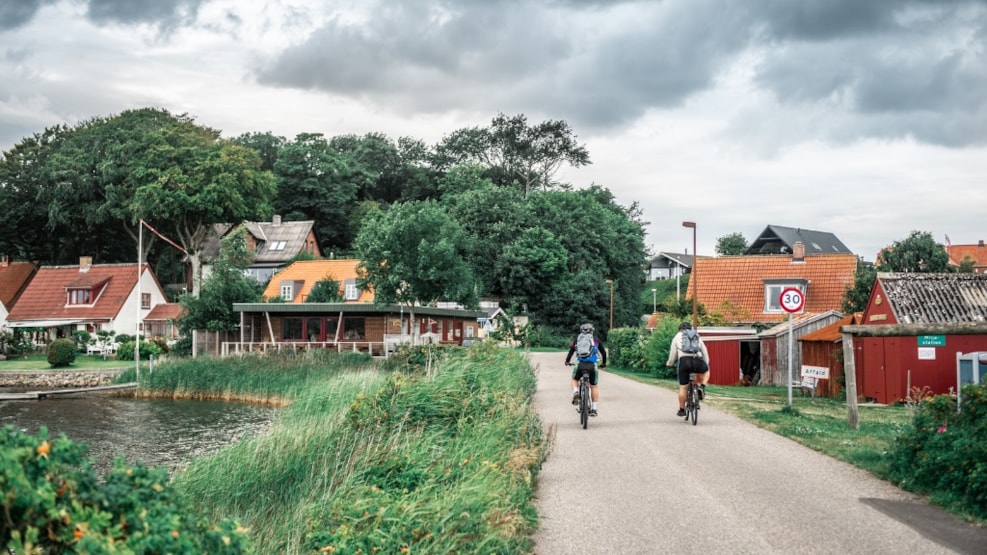 By bike from Holstebro to Thisted - Regional Route 24
Regional route 24 from Holstebro to Thisted takes you through areas that are rich in cultural-historical monuments and varied nature shaped by the ice age.
Seasoned with idyllic small communities, visits to galleries and artisans and local history museums, you will have memorable experiences to take home.
Regional cycle route 24 starts at Holstebro Railway Station from 1904.
Via a detached house area, you pass Oldtidsvejen by Døeshøjene - 25 interesting burial mounds from the Stone and Bronze Ages, which are very different. The most prominent are the flat mound Bredhøj with 50 meters in diameter, and the long mound Langemette.
The trip continues to Kjærgaardsmølle on the outskirts of Klosterheden. From here there is a magnificent view of Kilen - part of the Limfjord, which is cut off from the fjord by a dam. The wedge is protected and a favorite area for both birds and humans. Continue towards the idyllic Humlum Fishing Village with the authentic little red-painted fishing houses.
The trip continues towards Oddesund with the characteristic drawbridge with three arches from 1938. Slip down past the small lighthouse on the south side of the bridge with the distinctive name Grisetå Odde.
On the north side of the Oddesund Bridge you will find the modern Oddesund Tower, which serves as the gateway to experiences throughout UNESCO Global Geopark West Jutland. In addition to a beautiful view of the area, the tower also offers an exhibition about nature, history and geology.
Ydby Skjold is the country's largest group of Bronze Age mounds with a total of 49 mounds.
At Hurup you can make a detour to Doverodde, which is so beautifully situated by the Limfjord. From the old silo with the grocery farm you get a magnificent view of the Limfjord. The Statens Museum for Kunst recently set up a department here on the site.
Skyum Bjerge is another beautiful area with many burial mounds from the Early Bronze Age.
The route is 105 km.