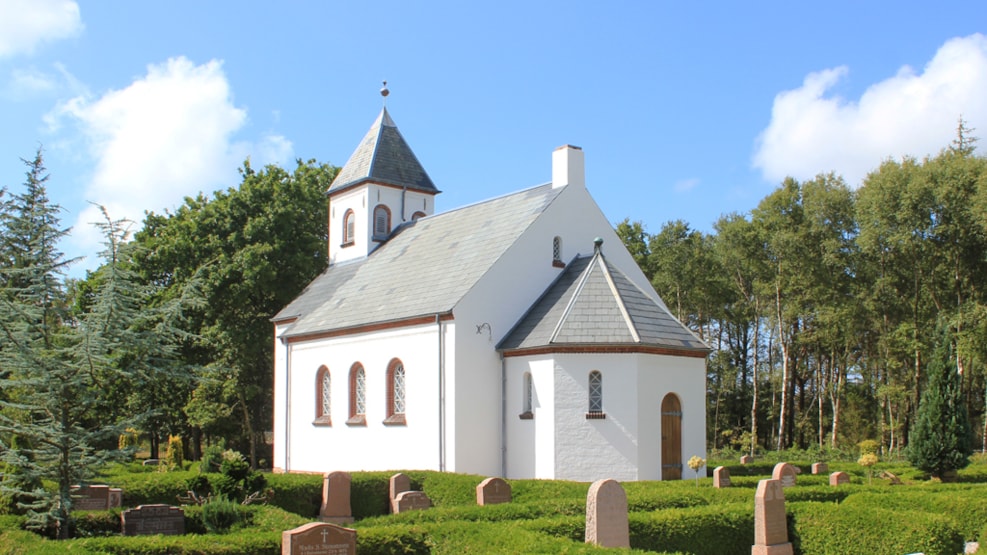 Børsmose Church
Unique beautiful white church of brick, with a special calm and harmony. Børsmose Church is fantastically located on the West Jutland heath, and has an exciting history, which is clearly reflected in the church.
Børsmose Church is located on the West Jutland heath between wild trees and the roaring of the North Sea.
The small white church is incredibly beautiful, and was built in 1902 on the initiative of the parish priest Jens Nicolai Schou in Aal. The church is only 14 m long, and is built of brick and roofed in slate.
The embroidered altarpiece was designed by Professor Martin Nyrop around 1910, and is in beautiful style. The embroidery depicts a rose garland in clouds surrounding a cast crucifix, including a dune landscape. At the top, the altarpiece has a Bible quote.
In 1981, 13 small figures of Jesus were erected and the apostles carved from wood from Varde old cemetery by painter Peter Steens. In the 1970s, a three-masted nave called the "Nebo" was suspended. The organ was built in 1976 by Bruno Christensen and sons. It is a standard church organ, and is a manual with four voices.
When the area was expropriated by the military in 1968, the church was exempted. Therefore, it is still used for worship services and church services. For this reason, the church gives a good atmosphere to an otherwise military area, as it has a special peace and harmony.
Find more information on Aal and Blåvandshuk Parish's website.