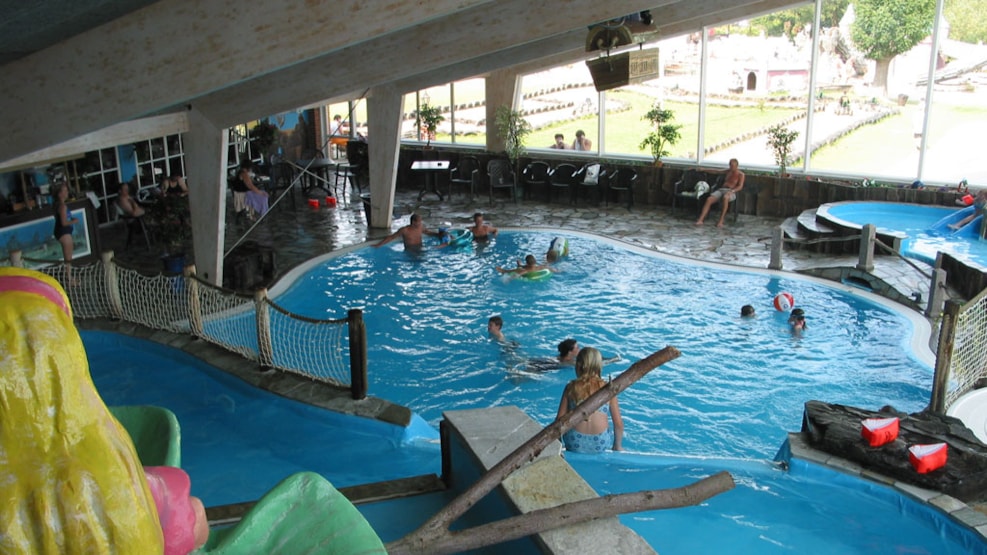 Bøsøre Strand Feriepark - Eventyrbadeland
It really is a pleasure to see how both adults and children can enjoy our water park.
It is arranged in three levels with a sauna at the top. Here you can sit and enjoy the incredible sweeping views of the Great Belt.
From the upper basin which is only 80cm deep you can take the Surfing Hill (slide) down to the big pool where the water is 128cm deep.
The children's pool is only 30 cm deep with a small slide. Here children can splash in the warm water.
In the spas, you can get massaged the body in the 38C hot water, so it is nice relaxed.
In the summer there will be a lot of water splashing on our new outdoor water playground.

While the kids splash around in the 40 cm. deep water or play with water at the playground, parents can relax in a sun bed or deck chair along the edge.

There are four water slides, where the highest is 6.5 meters and the lowest is only 1 meter. So there is something for all ages.

Slides are for safety reasons closed tubes.