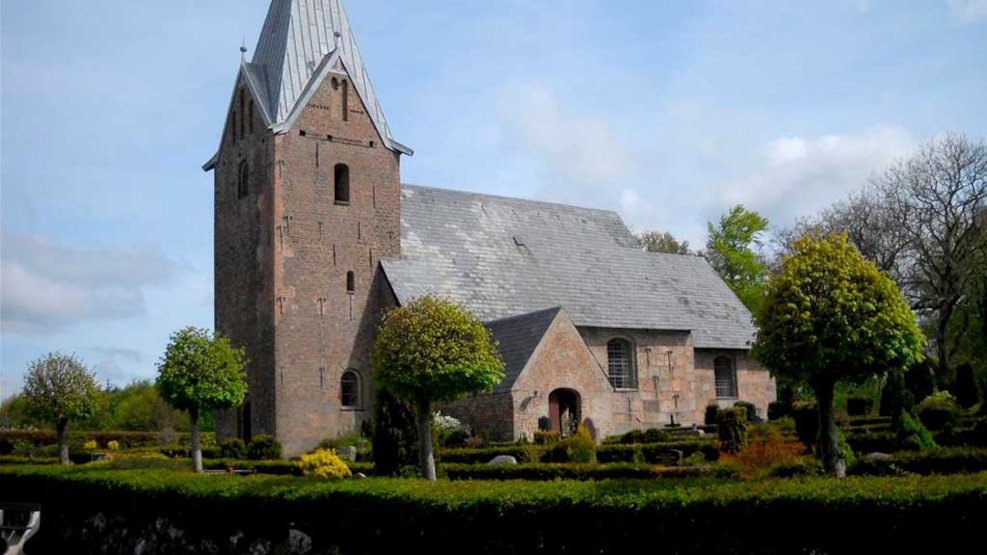 Branderup Church
Church buildings
The church nave is from Roman times, o.1200. The church's original apse was demolished in Gothic times, o.1400, to make room for a longer choir, but no apse. The masonry consists everywhere of shiny granite stones. Of the original windows to the north, one is preserved in the chancel and two in the nave. The north door of the church is now walled in, while the south arched door is still in use.
The rather small tower was built in late Gothic times, o.1500. It is of the Tørninglen type with a high pyramid-shaped spire and low pointed gables on all four sides of the tower. The tower is built of brick, but at the bottom, granite stone from the demolished apse has also been used. The tower's door to the west is original, but has acquired its current external shape in 1952. The tower room is cross-vaulted and there is a round-arched arcade into the nave. In the tower hangs a bell from the late Gothic period, o.1500.
The porch was built in the Renaissance period o.1550.
The roofing works are original. The roofs are clad in slate, while the tower is leaded.
Author - Henrik J. Møller.
Literature - J.P. Trap Danmark, 5th edition, Haderslev county, volume X, 1, 1965, page 375.