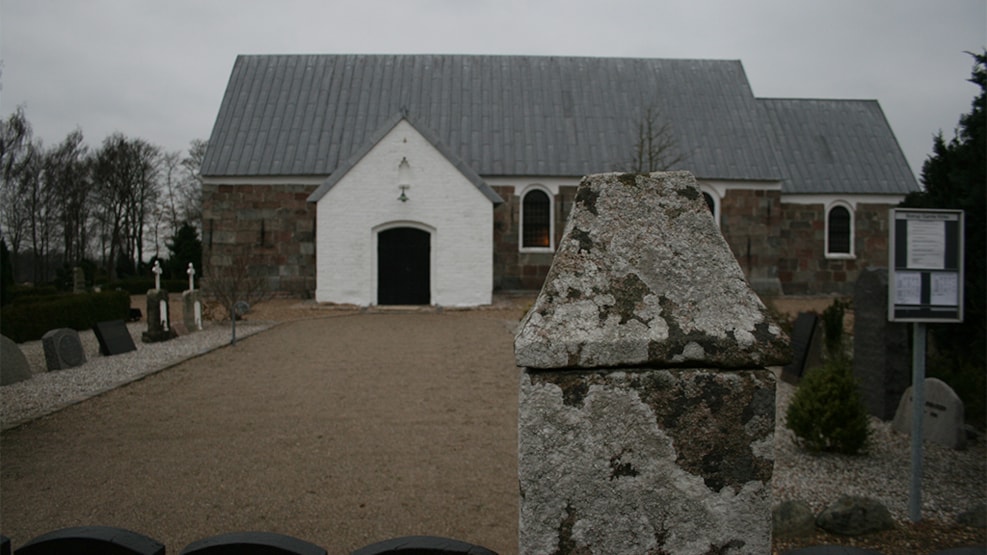 Brørup Old Church
North from the present station town, Brørup old Church is located. A solid Romanesque church in the landscape in the middle of the parish – and later supplemented by a newer church in the town of Brørup.
The Romanesque consists of nave and chancel built in ashlar stone. Earlier on, there has been one or more wooden churches at the same site. The current church was built in the 1440s – probably as reuse of a stone church from the 1200s. The blocks were carved on the spot, while the church was built. The roof is and has always been of lead. The granite baptismal front, the altar and a small saintly figure on the pulpit is from the middle ages. The original foot to the baptismal font is now in the cemetery. The pulpit and altar is from the renaissance. The alterpiece features a painting depicting Gethsemane, which is painted by Hans Agersnap in 1906. The church's contains a long inscription, which says it has been stolen and have come back. The pulpit is made by the carver Mads Christensen Gamst, it shows the four evangelists. The painting is from the mid-1600s. To the north, there is a confessional from 1586, which originally stood next to the altar. The chair is from 50 years after the reformation, and it tells us that the catholic confession, lasted for a long time after the reformation.
The church's bell was moved around several times, but now it hangs in a recent belfry. At one point, the bell hung on the eastern end of the church, but this belfry was in such a bad condition that it was deadly to use it. Legends tell of disagreement, where the church should be, so a few steers were tensed, for a plow and they let them go where they wanted - the church was built where they stopped.                        
Distance
Town center: 4 km