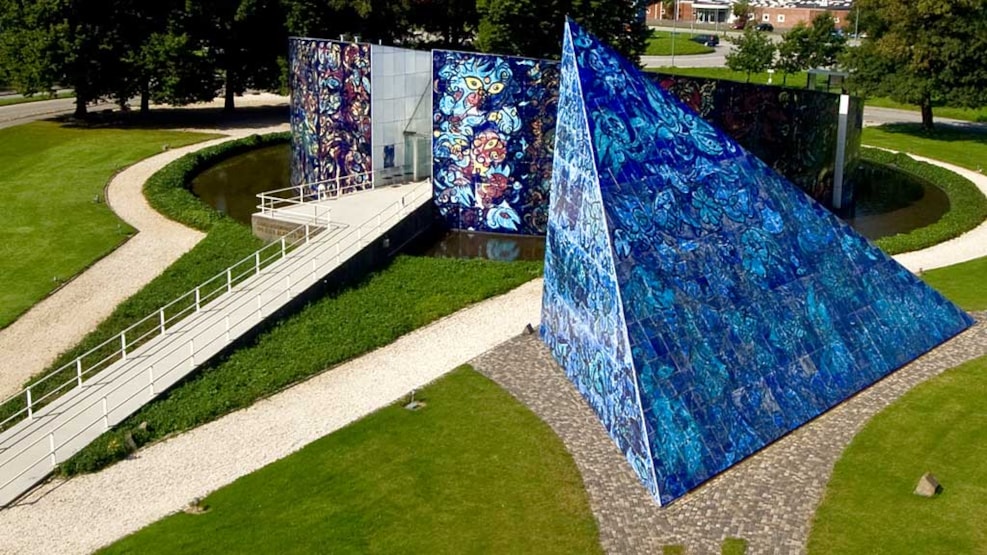 Carl-Henning Pedersen & Else Alfelts Museum
Carl-Henning Pedersen & Else Alfelts Museum is an artist museum built around a unique collection of the couple's works. Carl-Henning Pedersen donated several thousand of his and his wife's pictures to the city of Herning, which established the museum in 1976. The museum holds a total of more than 6000 works by the two artists.
The Carl-Henning Pedersen & Else Alfelt Museum was inaugurated in 1976 and originally consisted of a circular exhibition building. In 1993, the museum was expanded with a three-sided pyramid, and in 2015, the former shirt factory Angligården was connected to the other museum buildings via two new large exhibition halls underground.
Prince Henrik's sculptures
On Saturday 25 June 2022, a large part of Prince Henrik's popular sculpture collection was handed over to the museum. Queen Margrethe II visited the museum that day. For a number of years, the Queen has been depositing a number of works from her private collection of the Prince's sculptures.
Step into the magical worlds and be ready to wander around among mythical animals and powerful creatures in a vibrating universe.