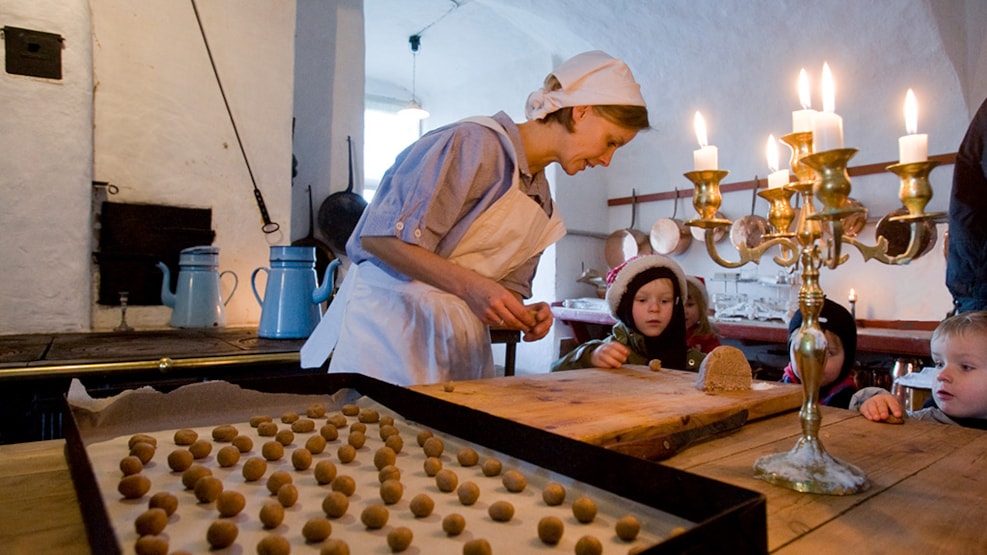 Christmas for Masters and Servants at Gammel Estrup Manor
See for yourself how Christmas used to be celebrated at Gammel Estrup manor. Be part of it when masters and servants prepare a festive Christmas in the course of December. See how the count and his staff celebrated Christmas one hundred years ago, and join in on the fun on weekends.
Experience a Manor Christmas at Gammel Estrup
Throughout December, you can experience an exhibit displayed in the manor's halls and chambers on Christmas as it was in 1918 for masters as well as servants. You get to see decorated Christmas trees and tables as they got set for masters and servants respectively. And feel the Christmas spirit take over when you see the halls and chambers beautifully decorated for this most festive of seasons.
Christmas Decorations Everywhere
At the manor, there is not an inch without Christmas decorations. In the dining room, Christmas dinner is ready for the count, and in the banqueting hall, the Christmas tree is glowing. Walking around the rooms, you can almost sense where the count and his family had their coffee after dinner and before lighting the Christmas tree, and where the children enjoyed their presents and the family gathered around the piano to sing their Christmas carols.
See what others are sharing on Instagram