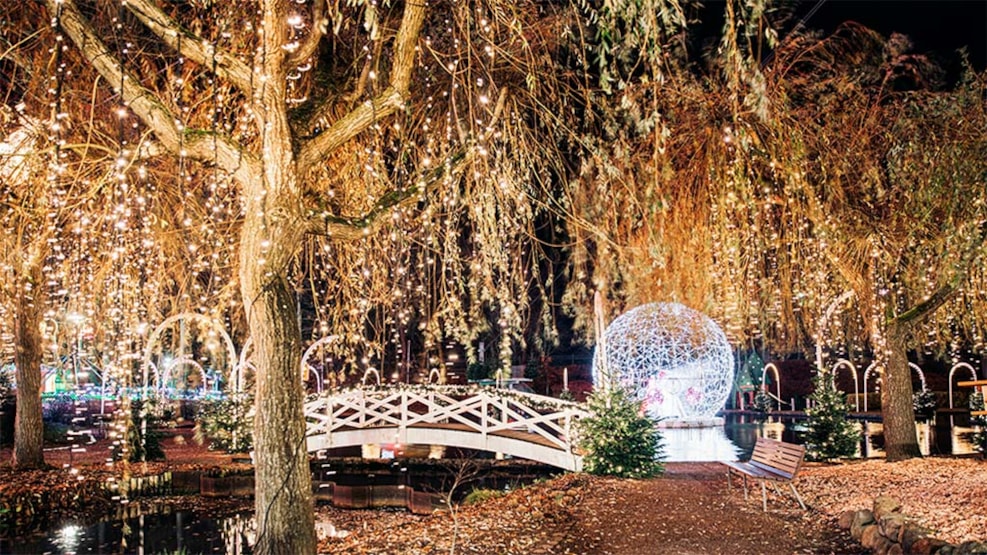 Christmas in Tivoli Friheden
Feel the wonderful atmosphere and Christmas spirit spread when Tivoli Friheden opens its doors to Christmas in Friheden and turns the park into a fairy tale Christmas wonderland filled with elves, Santas, stalls, and lots of lights and Christmas cheer.
You can look forward to being spellbound while strolling through the park's 70 metre Christmas light tunnel. Take in the spectacular sight of thousands of outdoor Christmas bulbs and decorations that will bring out your Christmas spirit while you are enjoying a warm and sweet treat in one of the many Christmas stalls around the park.
A Magical 40 M Christmas Tree
You cannot help but be impressed by the 40 m Christmas tree that appears when the Sky-Tower ride every year is turned into a magical Christmas tree. See how the entire park is lit up by the 2.1 km long chain of lights, creating an amazing atmosphere.
Hop on the Ferris Wheel and See Christmas From Above
See Christmas from above when the ferris wheel and lots of other rides around the park are open. During Christmas at Friheden, all rides are open except Sky-Tower, Kænguru, Brandalarm and Svævebanen. In other words, you will still be able to have top-speed fun.
Christmas Market With Christmas Pancake Puffs and Scrumptious Christmas Treats
You are in for a beautiful sight at Friheden, and your stomach will have a great time, as well. You can look forward to feasting on a wide selection of delicious Christmas goodies at the lovely stall village. You can have everything from the traditional Danish Christmas pancake puffs to crisp churros, delicious gourmet hotdogs, and hot drinks. You can find inspiration, Christmas decorations, and gift items at the lovely stalls selling art wares, ceramics, and everything in between.
Meet Santa at His Village
You very rarely get to meet him, as he is only around during Christmas. But if you visit Santa's Village at Christmas at Friheden, you will get the chance to meet Santa himself and let him know your biggest wishes for Christmas. They just might come true.
It will be a magical Christmas time for the entire family with the lovely atmosphere stimulating every one of your senses when Tivoli Friheden once again opens its doors to Christmas at Friheden.
Opening Hours
In 2023, you can experience Christmas at Friheden on select days from 18 November to 30 December.
Tivoli Friheden will be closed on December 24th, 25th and 26th.
See Opening Hours here (danish).
See what others are sharing on Instagram
#julifriheden #juliaarhus #visitaarhus #aarhusregion