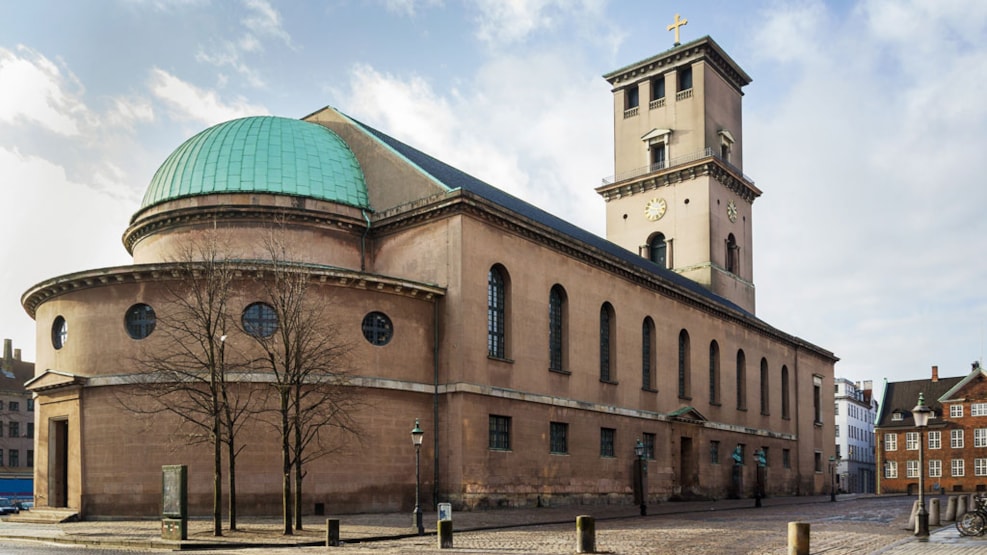 Church of Our Lady
The Copenhagen Cathedral in its present shape is an unpretentious building in Neo-Classicist style designed by the architect C.F. Hansen. The foundation stone was laid by King Frederik VI in 1817, and the solemn consecration took place on Whitsunday 1829.

However, the site of the present cathedral has housed a church ever since Bishop Absalon, the founder of Copenhagen, had a small chapel built on the premises. The original church was erected at the highest point in the town around 1200.

The church has seen many important events throughout Danish history. This is where King Valdemar Atterdag gave away his nine-year-old daughter Margrethe - later Queen Margrethe I - in marriage in 1363, in 1855 the funeral of Søren Kierkegaard, and 2004, Crown Prince Frederik and Australian Mary Donaldson were married here.

Thorvaldsen's sculptures

The statues of Christ and the twelve apostles immediately capture the attention of the visitor. Above the altar, Christ extends his arms in a welcoming gesture, while the apostles watch from the sides of the nave. Judas has been replaced by Paul.

According to legend, Thorvaldsen resented the fact that his statues were to be placed in the niches of the church, and therefore he deliberately made them so tall that they had to be moved out onto the floor – a move that does them justice.

Battle of Copenhagen

In 1807, the cathedral was hit by an incendiary rocket during the British bombardment led by Admiral James Gambier and General Lord Cathcart. The bombardment resulted in the cathedral's burning down.