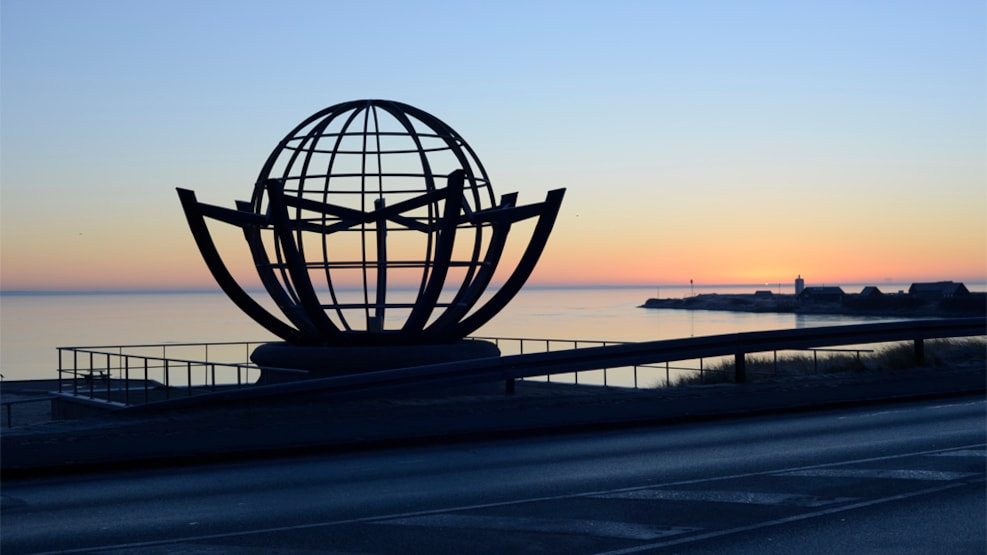 Cyklus
To Hvide Sande 75-year anniversary the city received a public gift made by the artist Leo Andersen, Gallery 63's art "Cycle". The artwork consists of 2 parts of "Earth's Navel" and "point. " Contributions from foundations, but also a great willingness among the city's businesses have made it possible.

The earths´s navel
A hemisphere symbolising birth. Erected in the roundabout at the museum Fiskeriets Hus. 
The point
A globe with seven ships´ bows symbolising the seven oceans of the world, and that every journey departs from a point. The tiling marks a line, latitude 56 degrees, passing through Hvide Sande. Erected north of the lock below Fiskeriets Hus. 
Life´s stairway
An extensionof the point, leads to a place which can be used as a gathering point or a place for activities. 
The memorial
Which is both a memorial to those who perished in the lifeboat in 1951 and a symbol of death, the end of the cycle of life. Erected west of the roundabout.