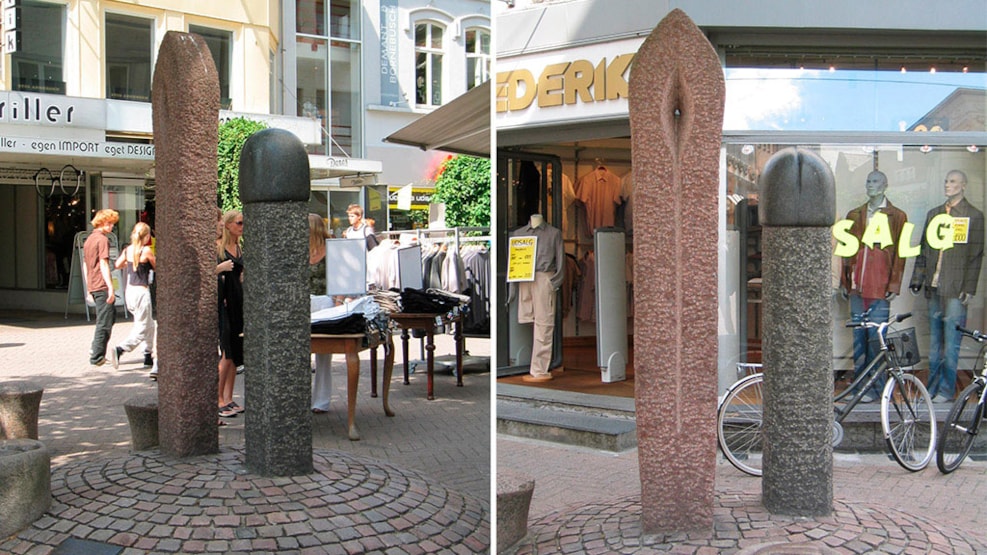 The Darning Needle
This sculpture contains two parts, symbolizing the characters from the tale; the Darning Needle and the Pin.
The tale of the Darning Needle is about a pin, who believes it is just as, if not more, important as the darning needle. With Frede Troelsens actual execution, shape and placement of the two figures, he uses the fairy tale to deal with the more eternal themes of feminine versus masculine.
The sculpture is from 1988, the darning needle is made from Swedish, red granite, and the pin with the black, polished head is made in granite from Bornholm.
Fun fact: A darning needle and a pin, or does this sculpture really show something else? From the artists' side, the ambiguity of his sculpture is intentional. Frede Troelsen himself believed that Hans Christian Andersen himself made this association in his fairy tale, so he found it right to make the same in his sculpture.
Frede Troelsen (1936-2014) was a self-taught sculptor, who mainly worked in stone and wood. Most of his work focuses on themes such as birth, the sexes, dreams and death.