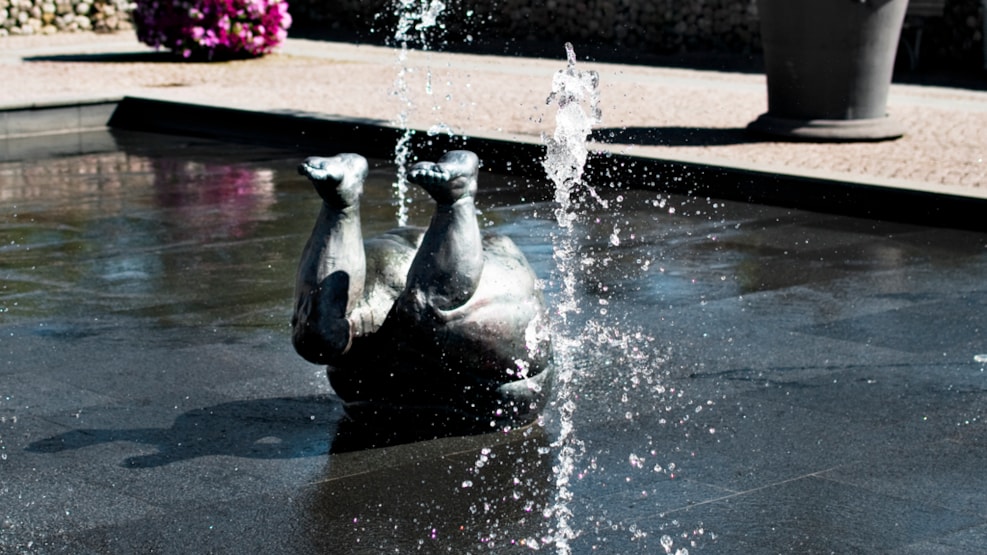 Den Dykkende Dame
"Den Dykkende Dame" was staged in Tarm in 2011, and created by the sculptor Jens Galschiøt. You will find the sculpture between the triangle between Vejlevej and Storegade.
The sculpture is placed by Storegade and Vejlevej.
Den dykkende dame "The diving lady" - made by Jens Galschiøt and presented in Tarm in 2011. The work of art has had a fantastic reception in the city. "The diving lady" has come to Tarm with help from several businesses in the city. At the inauguration Jens Galschiøt said: Now I hope many will go out into the fountain and sit down on the sculpture. Actually the first version to the work of  Den Fede Dame "The Fat Lady ".
"The diving lady" is located in a pool of 13x6 m, where there are 6 places in the pool where water springs up. The pool itself consists of various black granite tiles, and "The Diving Lady" is made of iron and weighs 600 kg. The locals call the fountain "the ass".