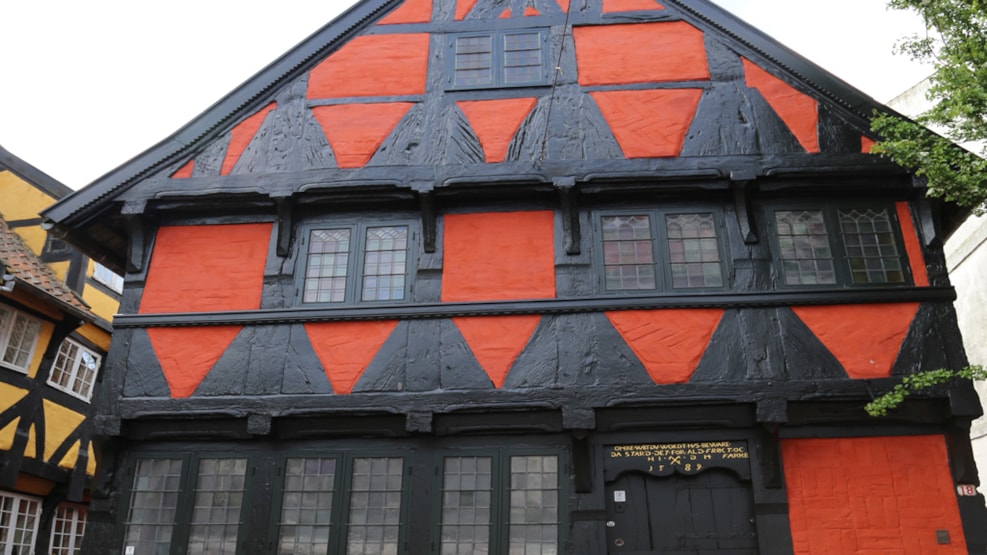 Det Gamle Borgerhus (the Old Citizen's House) - Koldings eldest house placed in the middle of the city
The old timbered house is Kolding's oldest preserved house and has over 400 years of history. Today, the building works as an exhibition for artists.
"Tonight most of the town of Kolding burned down" King Frederick II noted in his diary on 8 May 1583 that the eastern part of Kolding had been destroyed by a fierce fire. Exactly how much of the town burned down is not known, but the market square and the buildings along the present Østergade and Slotsgade were certainly destroyed. In the years afterwards, the town was rebuilt.
One of the newly-built houses has survived until today, Helligkorsgade 18, which housed the city's tourist office until 1992.
The house was apparently built in 1589, in the typical architectural style of Kolding, as a gable house with its gable end facing the street. This architectural tradition originated from the North German trading towns and spread to the Danish towns along the Little Belt during the Middle Ages.
Today, there are only a few surviving examples in Denmark of this construction method, which gave many property owners direct access to the street. Among these, there are three in Kolding: Borch's Gård on Akseltorv and Helligkorsgade 18 and 20.
The first owner of the house is unknown. In 1704, shoemaker Jørgen Hansen bought the house and it was in the ownership of his family until 1915. The house was then bought by a group of Kolding citizens, who wanted to ensure that it would be preserved for posterity. The house was later given to Kolding Municipality, which used it as a tourist office for many years.
Today, the building's uses include it functioning as an exhibition area for artists.
In the gable facing the garden is a cannon ball from the battle of Kolding on 23 April 1849.