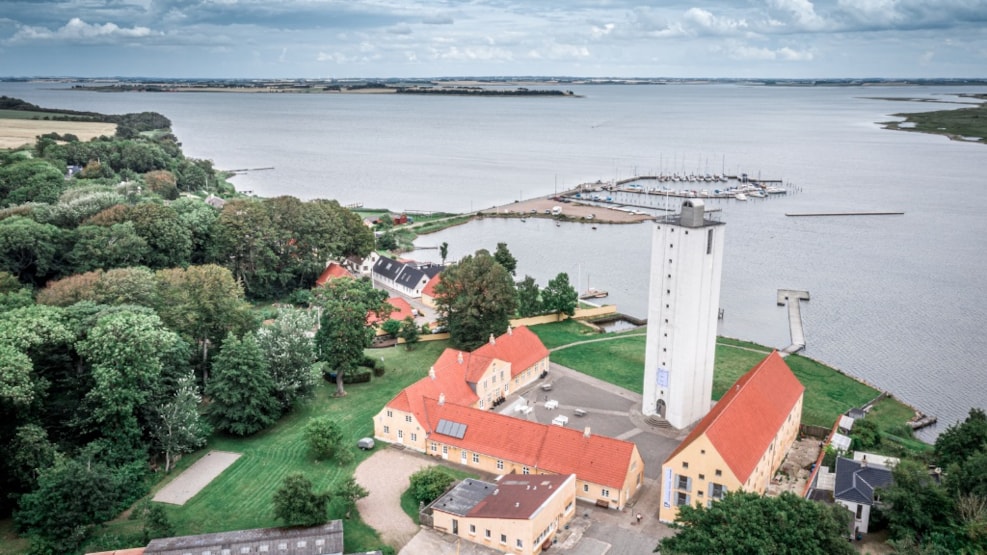 Doverodde Købmandsgård - Merchant Farm
Visit the beautifully situated Doverodde Købmandsgård by the Limfjord in Sydthy.
This area of cultural-historical interest exudes charm and idyll.
Doverodde Købmandsgård has functioned as a gathering place for almost 200 years. First, the grocery store was an important trading post and later it became the center of cultural events.
SMK Thy
The Statens Museum for Kunst (SMK) has created a new and permanent branch at Doverodde Købmandsgård with works from SMK's large art collection in Copenhagen. You can experience the art at changing exhibitions and events.
Activities on land, at sea and in the air
Nature invites to outdoor activities such as hiking, cycling and water sports.
Join the nature guide on a sea kayak trip, seal safari and Limfjord safari, where you borrow waders, nets and binoculars to explore life below the water's surface. The adventurous can rappel down the silo. From Doverodde's landmark, the 42 meter high silo, you get a fantastic view of the Limfjord country.
Café and shop
If you are hungry for more experiences, you can make your way past Doverodde Købmandsgårds Café, which makes quality food based on local ingredients.
Next to the café is Høkerbutikken, where you can buy various handicrafts that represent Thy.
End the day by spending the night at Købmandsgården's shelter site, which also has a campfire hut.