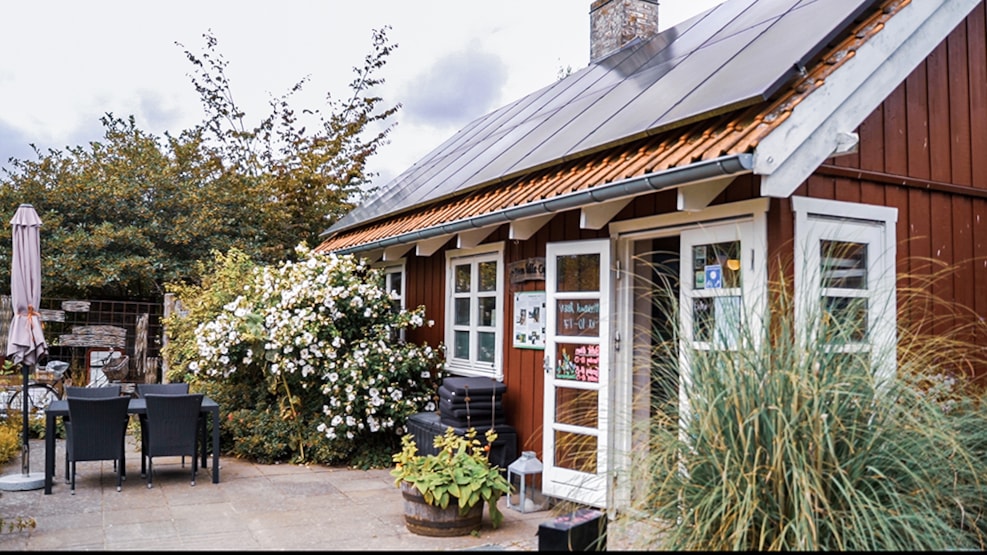 Green Experience
The Ecology Garden (Økologiens Have)
Lots of fresh air awaits when you visit Scandinavia's biggest public organic garden. Experience the biodiversity and the many themed gardens, pet the many cute animals, and let the children romp at the playgrounds.
A delightful refuge for the whole family
This large organic garden facility located in the outskirts of Odder is a big hit among children and garden enthusiasts. Allow plenty of time for your visit because there is a lot to experience in the big 20 hectare facility. There are a total of 14 different themed gardens and many facilities for children, a café, and a store. All of this focusing on ecology and biodiversity.
The many gardens
14 gardens, each offering different experiences, scents and impressions, are scattered around the Ecology Garden.
In the herb garden, there are more than 200 different plants in abundance of colours and scents. The herb garden is divided into three sections with herbal medicine, previouslu utilized herbs, and homeopathic herbs respectively. You can learn more about the use of the herbs through information on site.
You should also stop by orchard/vineyard which has many well-known and more uncommon fruit trees. Or the vegetable garden with 34 beds of a multitude of vegetables. Or the residential garden where you can find inspiration for the garden at home.
If you are more interested in wild nature then visit the forest garden with a lake, the birch grove, or the nature gardens including the steppe garden, the prairie garden, the swamp garden or the shadow garden.
For children
In the Ecology Garden there are many sweet and friendly animals that you can pet, including goats, ponies, donkeys, cows, pigs, chickens, and birds. Children can spend hours making new friends among the animals.
At the marketplace, you can find a big, roofed straw playground that children love. There is also a regular playground with a sand box and playground equipment.
Café, shop, and plants for sale
Near the entrance to the Ecology Garden there is a café and a store. In the café you can purchase ice-cream as well as cold and hot beverage. During weekends and high season, you can also enjoy home baked bread and lunch dishes.
In connection to the café there is also a small store selling seeds, herbs, vegetable plants, gardening books, and tools.
Across from the café, you can also enter a greenhouse selling plants, seeds, jars, bushes and more. Here, you can purchase many of the plants that you have seen in the gardens. If you are in need of summer flowers, herbaceous perennial, chili- or strawberry plants, then come in and see the collection of organically grown plants for your own garden.
Opening hours
On the website of the Ecology Garden, you can see the current opening hours as well as the entry price. You can also find information about the garden, get advice for your own garden or buy seeds and other products in the webshop.