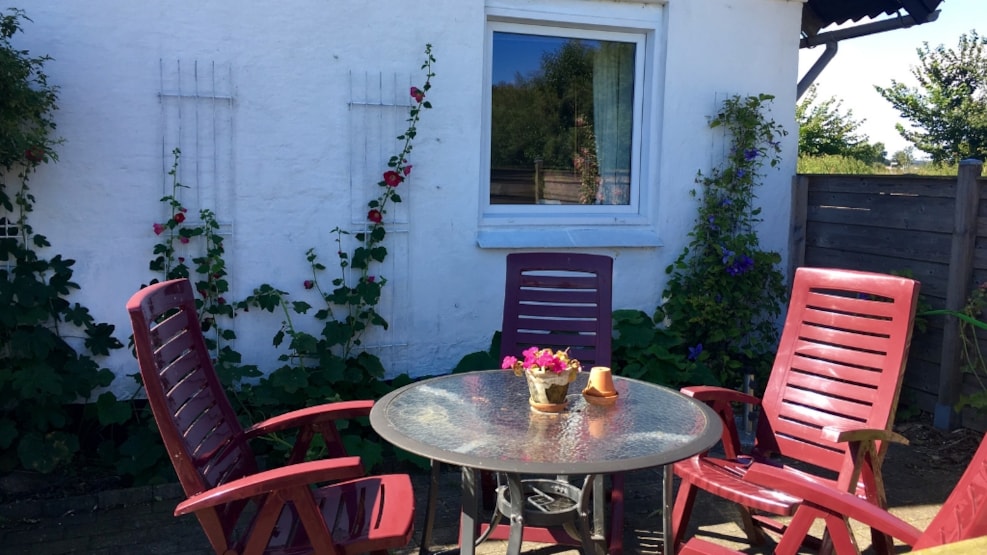 Ellekaer-Gaard Bed & Breakfast
Welcome to Ellekær-Gaard - private accomodation in charming and idyllic surroundings
Take a detour from E45 on your way to Norway, Sweden or the rest of Scandinavia and stop for a good night's rest at Ellekaer-Gaard's small Bed & Breakfast place.
Our refurbished farmhouse is in the countryside, but only 5 minutes drive from E45 and less than 30 minutes drive from Frederikshavn and Aalborg.
If you wish to use Ellekaer-Gaard as your base for tours around the nature in North Jutland, we will be happy to let you use our bicycles or walking sticks free of charge. 
We are located close to the beautiful renaissance castle, Voergaard Slot, the old Millhouse and the Hunting and Forestry Museum in Dorf, Dronninglund Slot (Castle) and the Great Forest around the Great Jutland Ridge.
The ideal place to stay for hikers and cyclists on the Ancient Road Haervejen with possibility for catering, i.e. dinner and lunch packs, pick-up and luggage transportation.
About Ellekaer-Gaard Bed & Breakfast
We have fivecharming and peaceful rooms with a view to the surrounding fields and the rich wild- and birdlife. We are a small Bed & Breakfast with emphasis on a personal and homely atmosphere. We don't offer Five-Star facilities, but you can be sure to stay in a cosy and friendly place. Our guests are welcome to use the library and the electric kettle to make tea or coffee in the room. There are shared toilet and bath facilities in the hall.
A good place to sit and enjoy the sun in the summertime is the furnished front porch which is available for our guests. Barbecue equipment is available on request. Our guests are welcome to say hello to the farm's friendly ponies and cats. Bicycles are available free of charge or walking sticks if you enjoy Nordic walking and want to explore the nature surrounding the farm. If you would like such packs for your outings, this can be arranged for a small surcharge, but please let us know a day in advance.
You will find the closest supermarket and a hairdresser in Flauenskjold village (4 km). Dronninglund (12 km) is a good little town with several supermarkets, shops, restaurants, café, and a pizza place. Dronninglund Art Center is also well worth a visit.
The beautiful renaissance castle, Voergaard Slot, is just a stone's throw from Ellekaer-Gaard and holds one of the finest art collections in Scandinavia. The medieval town of Sæby with Saebygaard Slot (Castle), beach and marina is 15 km drive from Ellekaer-Gaard.
Another popular beach and harbour area is the old fishing village of Asaa 12 km away, where you also find a bird sanctuary.
Activities within close distance to our farm are canoeing at Voer Å (Creek) (4 km), Medieval Festival Days at Voergaard Castle in mid July, Dronninglund Golf Club (10 km) and trekking in the pristine Great Forrest of Dronninglund (Storskov) (10 km). Dorf Mill House, a Hunting and Foresty Museum (3 km) offers various special activities such as baking days and jam making days.
It is possible to use the washing machine and drying machine for a small surcharge.
Parking on the farm's area is free of charge for the guests.
Prices
We are open all year round
Double room per night for two persons (separate beds): DKK 420
Double room per night for one person: DKK 280
Breakfast per person: DKK 50. Children under the age of 12 free of charge
Children: No charge for children under two years who sleep with a parent in the existing beds.
Please note! Surcharges are not automatically included in the total amount payable and will be charged separately during your stay.
Rules at Ellekaer-Gaard
Check-in: 3 pm-10 pm
Check-out: 8 am-10am
Cancellation: Minimum 24 hours prior to date of arrival. Otherwise the total amount will be charged.
Pets: Pets are not allowed.
Payment: Payment in cash at check-in. Credit cards are not accepted.
Smoking: No smoking anywhere inside the house. Smokers are kindly requested to use the outdoor areas.
You are kindly asked to inform Ellekaer-Gaard in advance about your estimated time of arrival. In case you expect to arrive later than 10 pm, please advise Ellekaer-Gaard.
Please note that payment in cash must be made at check-in, and that proper ID must be presented.
Find your way to Ellekaer-Gaard Bed & Breakfast
Turn off from E45 at the Flauenskjold exit and follow the sign toward Voergaard Castle. Turn right at Pulsen in the direction of Dorf. Then turn right at Trangetvej.