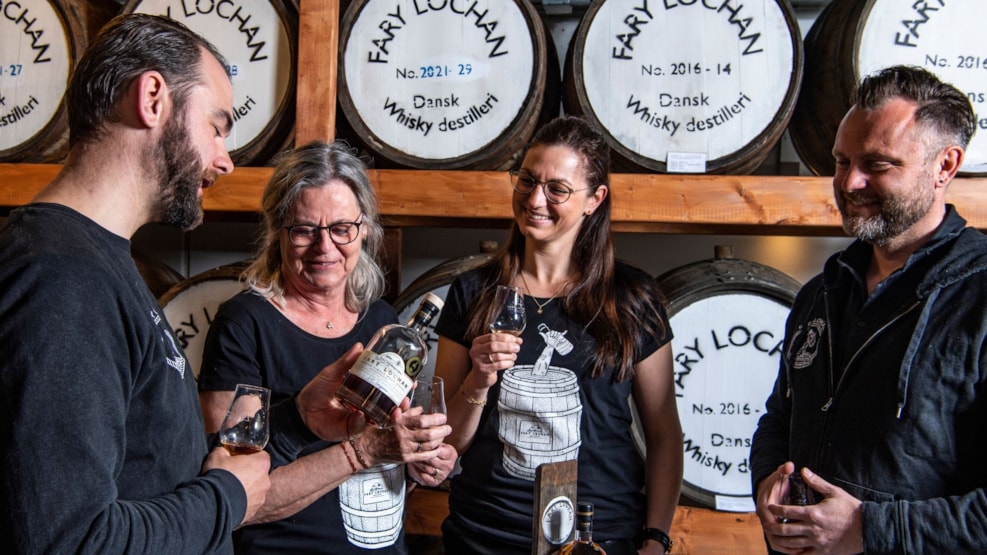 Fary Lochan Destilleri
A visit to the Fary Lochan Distillery offers insight into the production and daily operations of a genuine Danish whiskey distillery. Join the tour of the distillery and the production, which concludes with a tasting of selected products in the small boutique.
In 2009, proprietor Jens-Erik Jørgensen created his first Fary Lochan single malt whiskey. Fary Lochan has since specialised in Danish whiskey, gin, aquavit and liqueur, and invests great pride in supplying the best products and stories to Danish consumers. Everything is crafted by hand to ensure the highest quality. There is no compromise on quality at Fary Lochan.
On a guided tour, you will be invited into their world from start to finish. You will see the grain, mashing process, fermentation, distillation and maturation, which all lead to the bottles of whiskey that reach the shelves of Danish homes. During the visit to the cellar and showroom, you will experience what it especially means to be Danish whiskey producer.
Fary Lochan also produce much more than whiskey. They offer 8-10 different flavours of aquavit, gin, bitters and liqueurs, including an award-winning strawberry liqueur, which was hailed "Local Product of the Year" in 2016.