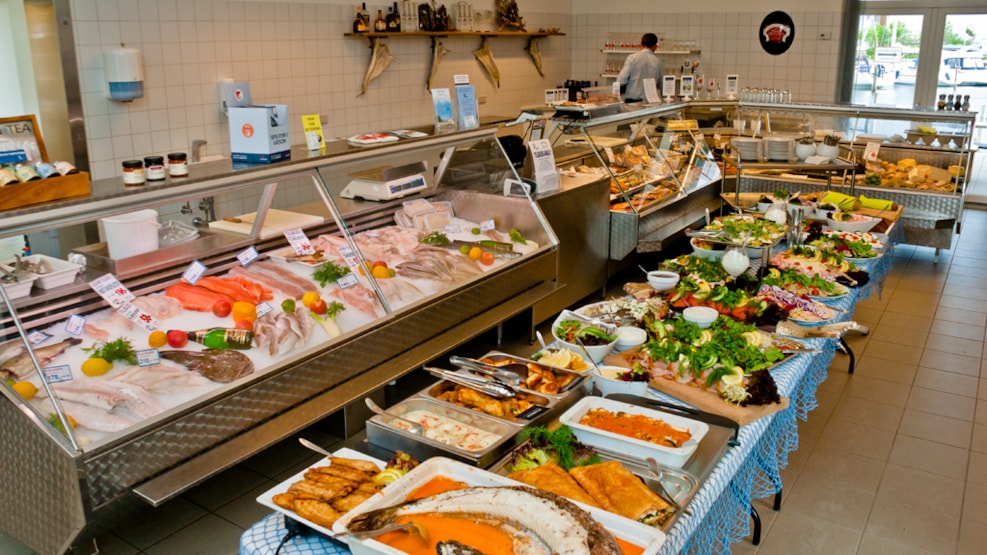 Fiskehuset Thisted - Fish Shop
Welcome to our fantastic food universe with both fish shop, farm shop, food market and casual restaurant with both indoor and outdoor serving in Thisted.
We are centrally located with the most beautiful views of both the marina and the Limfjord. With us, taste, quality, freshness, good craftsmanship, sustainability and good customer service are paramount.
Every morning we buy the freshest and best local fish for both shop and restaurant.
Everything is handcrafted and made from scratch - also in our own fish smokehouse.
In the large store you will find lots of fresh fish, completely boneless fillets, organic fish, delicious smoked fish and other of our specialties for example Thy-Herring and lots of good local products from other local producers, many of which are also organic.
In the lunch restaurant, we are especially famous for our luxury star shoots with organic butter-fried plaice fillet and white wine steamed plaice fillet.
We are also known for our delicious fish symphonies, burgers, homemade potato salad and rye bread with the house specialties and so on. The main emphasis is on seafood, but it is also possible to get some meat.
In general, we place emphasis on freshly prepared pan / oven fried and steamed food. With us, the fryer is an exception, which is only used for fish 'n' chips, which we of course make from fresh fish.
Although the style is unpretentious in the restaurant and you help yourself a little, nothing is spared in the kitchen. We always serve the freshly prepared food at the tables.
The shop and lunch restaurant are open every day (Monday-Saturday) all year round. See opening hours, including evening opening hours with our large, delicious and popular seafood buffet, can always be seen on Fiskehuset Thisted's website, where you can also see menu cards and more.
There is also the possibility of take away.