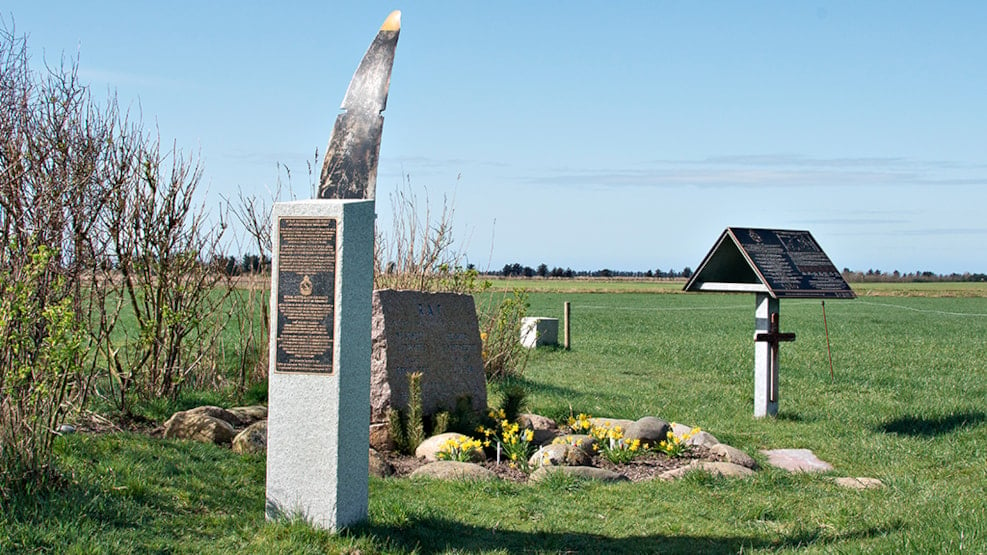 Flyvergrav by Stadil
The aircraft grave in Stadil is in memory of an English Lancaster machine, which crashed west of Stadil and exploded in 1943 during World War II. On board the plane were 4 Englishmen and 4 Australians, who were killed when the plane jumped into 1.000 pieces.
The flight grave at Stadil is a memorial to an Australian and English flight crew who were shot down over Stadil during World War II.
In 1943, World War II was at its height, which meant more and more people died in the horrors of war. On the night of September 4, several hundred British bombers attacked Berlin, leaving over 550 dead. The trip home was planned to fly the Lancaster machines over the ocean - and thus not directly over Denmark, as it was too dangerous. The flight Lancaster EE138, however, had no choice as there was not enough fuel for the long road beyond won. Therefore, the plane had to fly over German-occupied Denmark.
One of the Germans' bunkers at Atlantvolden hit the English machine. The pilot tried to make an emergency landing, but was hit once more. The plane crashed west of Stadil and exploded when it hit the ground, approx. 400 m south of Ingemann Halkjær's farm.
Here were found the remains of a plane that had exploded into 1,000 pieces, and a large hole that was already filled with water. The crew of the large machine, which consisted of 4 Englishmen and 4 Australians, lost their lives. I. Halkjær and the others from the parish made a wooden cross in honor of the fallen.
In 1949 the mother of one of the perished airmen visited the crash site, and when Halkjær saw how moved she was to see the simple wooden cross, he decided to start a public subscription to erect a memorial stone at the site. The vicar, the chairman of the parish council and Halkjær set up a committee.
On 5 May, 1950 they were ready to unveil the stone. Several hundreds of the local residents were present, when vicar F. Frederiksen, Stadil, starte his commemorative words to the fallen airmen. Then Ingemann Halkjær unveiled the stone with the 8 names that they had from England. (S/Ldr Kelaher´s notebook was found by the Wehrmacht at the site). After speeches by prefect A.V. Karberg, the county of Ringkøbing, and by Lieutenant Colonel Olsen, Viborg, Captain H. Bork-Larsen laid a wreath on behalf of the Home Guard. With that the residents of Stadil had given S/Ldr Kelaher and his crew a gravestone.