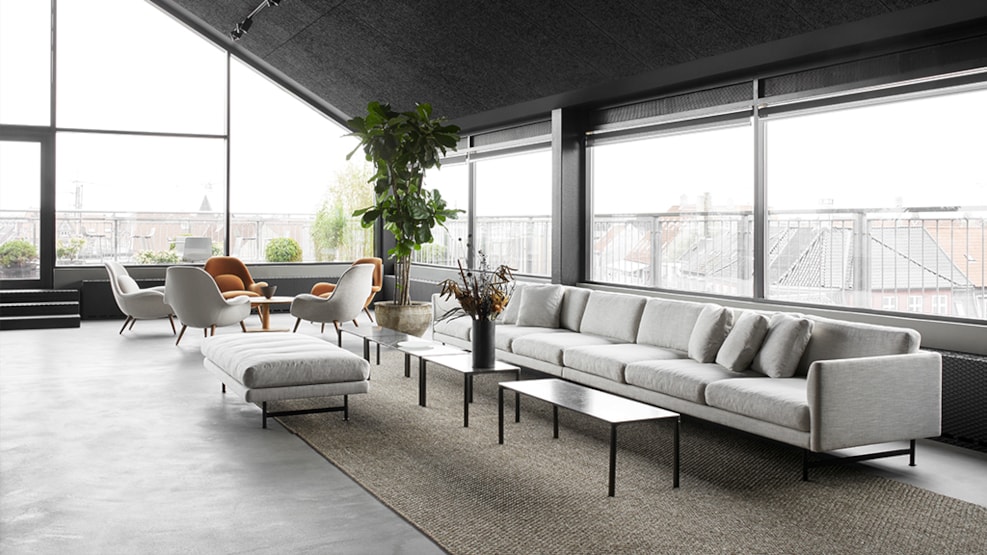 Fredericia Furniture Showroom
Discover a Danish design legacy and a stunning rooftop terrace in the heart of Copenhagen.
A showroom with a view
Located on the top two floors of the former Royal Mail House, is the home of one of Denmark's most renowned furniture brands, Fredericia Furniture. The brand has one of the most awe-inspiring showrooms where more than 100 years of design tradition and history are displayed through beautiful furniture that'll make you want to move right in and bring back some serious souvenirs from your visit to Copenhagen.
Take in the perfect views of the nearby Round Tower from the rooftop terrace open to the public. Copenhagen's towers and spires act as the perfect urban, historic backdrop for Fredericia Furniture's portfolio of iconic designs. You'll get to experience the work of big-league designers and architects like Børge Mogensen, Arne Jacobsen and Nanna Ditzel along with contemporary designers.
How to find it…
The entrance is found in Løvstræde 1 around the corner from the busy shopping street, Købmagergade a mere 100 meters from The Round Tower. The showroom acts as a multi-purpose space as employees are actually working by their desks bringing new designs to life. Meetings are also held around the premises, yet you're always welcome to stop by and take a look around this design haven.