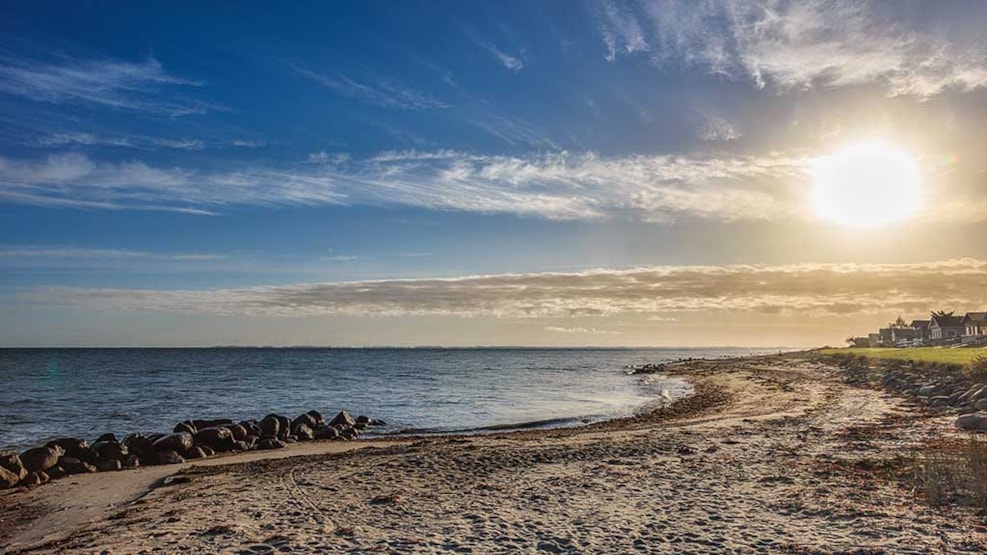 Fuglsang Beach
It's always good to go to the beach at Fuglsang where you can enjoy the water and the sand and the shade at the grass areas - or enjoy a walk all year round!
Nice beach in the beautiful Fuglsang area near Tørresø. 
The beach has the Blue Flag as a symbol of its good quality and good bathwater.
The nearby large recreational area offers sunbathing sheltered from the wind and invites you to a ball game, a nice picnic or a barbecue supper in the sunset.
You can also try a fun game of disc golf on the 9-hole disc golf course.
There is a lovely view from the beach, and you can enjoy the sight of the waves and the white sea foam at all times of the year. Don't hesitate to go for a nice walk by the beach or enjoy a fresh dip in the sea, even in winter – if you dare…
You shouldn't miss a walk in the beautiful forest at Fuglsang either - there is a nice hiking trail, shelter, a campfire area and beautiful nature here.
#Did you know that you can stay in a holiday home at Fuglsang Beach? Click here to choose your holiday home rental on Nordfyn ♥