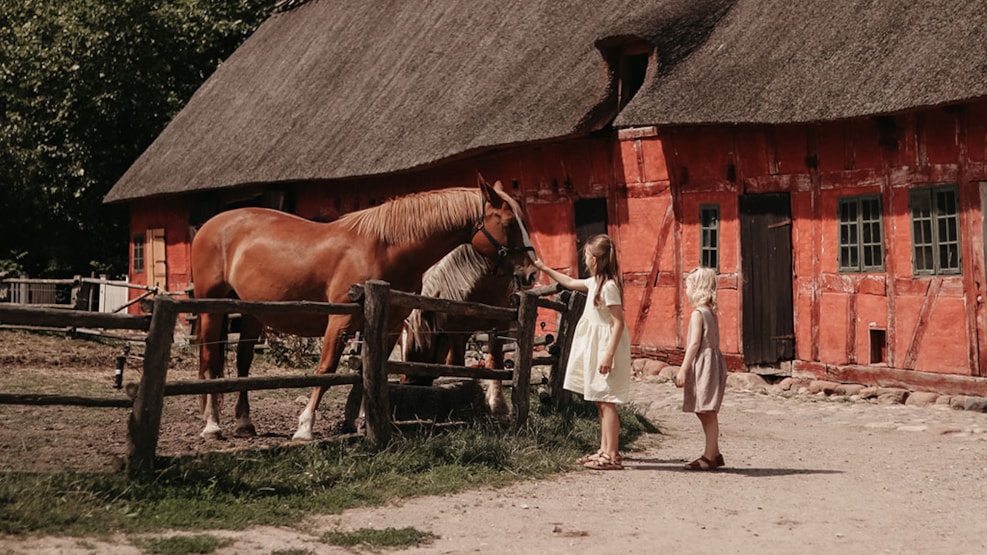 Green Experience
The Funen Village - Open Air Museum
The Funen Village focuses on past experiences of living circularly and in closer harmony with nature, and how the past can inspire sustainability in everyday life today. All buildings date from the 18th and 19th centuries and are sourced on Funen. Most are built in half-timbering and with thatched roofs. The village is surrounded by fields and gardens, and you can meet livestock in stables, on pasture or in the fields, ploughing the arable land with the farmer.
The Funen Village tells the story of both past and future, sustainability and community.
A village with inspiration for the future
The Funen Village is an attraction that shows how people lived and what they did in the 18th and 19th centuries. In addition, The Funen Village places great emphasis on sustainability, recycling and community, which is demonstrated through the village's activities and stories. It is a historical museum that tries to use the history of the past to change the future - precisely by focusing on sustainability and community. The Funen Village shows life in the past, when people were in closer covenant with nature, to inspire you and your family, arouse your curiosity and make you wiser about the past and the future.
An experience for the whole family
The Funen Village has something for all the family, young and old. Children and young people under 18 don't have to pay admission, so get going! Throughout the season you can enjoy activities such as horse-drawn carriage rides, various village tales, travelling theatre and many other exciting activities. You can also learn how to milk cows, make clothes from flax, how honey is made in the village and much more. You can always find the whole year's programme here: www.denfynskelandsby.dk, so you can choose the activities you want to experience.
History programmes and summer evenings
When you visit the Funen Village, you can listen to stories told by the volunteers. They perform the roles of cooks, coachmen, field workers, candle drippers, goose maidens and other village residents. As you listen to the stories, you can watch the characters as they go about their daily chores. This creates a unique and special atmosphere for you to experience what it was like to live in the 18th century. In addition to the many volunteers and activities, the Funen Village is open every Thursday in July, where you can enjoy the summer atmosphere of the village.