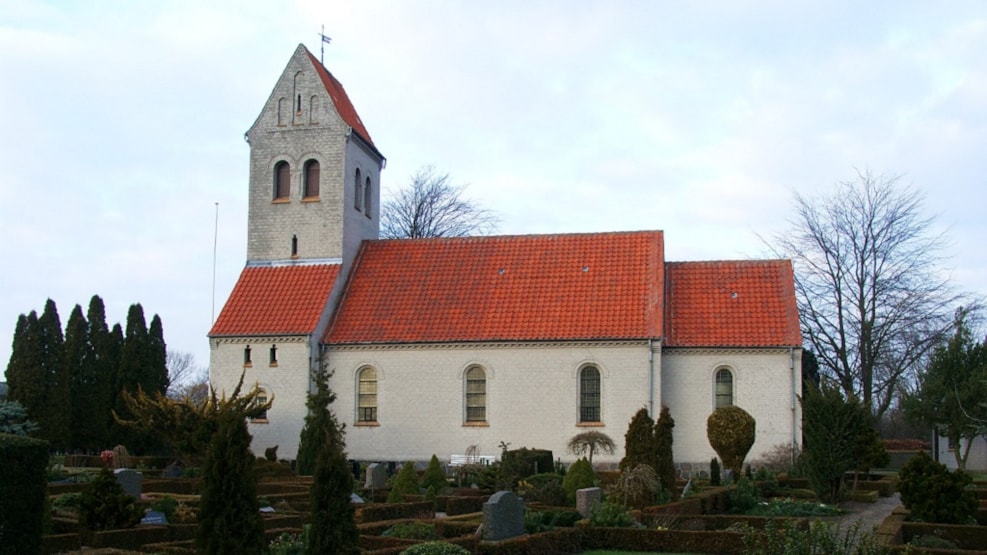 Gerskov Kirke
The beautiful Gerskov Church from 1925 is close to Odense Fjord and Klintebjerg. The church is open every day and everyone is welcome to enjoy a quiet moment or to light a candle in the light globe.
Gerskov Church was built in 1925 of gray limestone in neo-Romanesque style. The church was designed by architect N. P. Jensen from Odense, who is also the architect of churches in Strib and Røjleskov.
The church was built after large population growth in the parish. Skeby Church was located on the opposite side of the parish, and first there were considerations to move the 800-year-old church to the center of the parish. But instead, a completely new and beautiful church was built in the village of Gerskov, which is close to Odense Fjord.
The church's altarpiece from 1927, which depicts Easter morning, is painted by the artist Ellen Hofman-Bang, one of the last residents of the manor Hofmansgave.
In the church hangs the small model ship Margrethe, which was hung in the church on 17 September 1944 and is named after the then princess, now Queen Margrethe. It is a model of the English clipper Thermopylae, made by shipbuilder Gorm Clausen from Marstal.
The beautiful crucifix was made by the artist Kristen Østerby of moss oak and marble. It was put up in connection with the church's 75th anniversary on December 10, 2000.
Opening hours
Gerskov Church is open every day for visitors.
In the church there is a light globe where you can light candles and say a prayer.
In winter, the church is open at 8.00-16.00.
In summer, the church is open at 8.00-18.00.