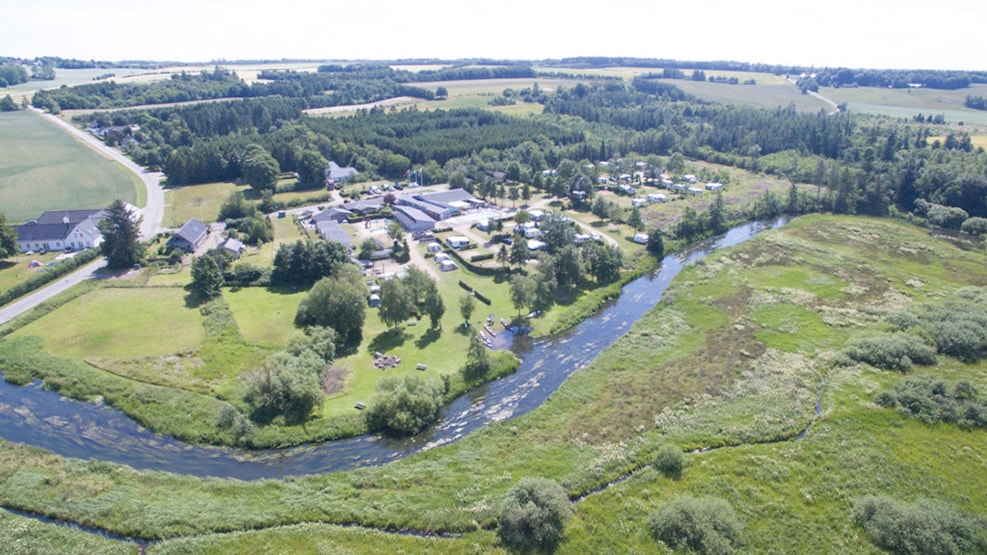 Gudenå Camping and Canoe Rental
Who would not like to camp in picturesque surroundings with the trickling river Gudenå in the background? At this intimate campsite you can enjoy a relaxing and safe holiday. With its supreme location, you have optimal conditions for canoeing and one day trips to the big attractions and cities of Eastern Jutland.
Time for relaxation for the whole family
This peaceful campsite is located in the village of Bredstenbro at the banks of the river Gudenå. The site is small, cosy and well-arranged with all the facilities you need – no matter if you are a family with children or a couple traveling alone.
The campsite is a great setting for many different activities – you can look forward to a dip in the pool that also has a baby pool. The children can have fun at the playground that includes a play tower and a bouncy castle. And you can also bring your rod and fish in the Gudenå from the site.
In the kiosk, you can buy all the essentials, and why not stop by the cafeteria during high season which offers delicious fast food and pizza.
Accommodation that suits everyone
You can of course spend the night in your own caravan or tent at Gudenå Camping. You can sleep at a fine location with a beautiful view of the Gudenå. If you do not have your own caravan, you might want to book one of the charming wooden cabins that come in three sizes. The cabins are all equipped with a kitchen, fridge, and each their own patio. Or consider renting a double room with toilet, television, fridge and coffee maker.
You will feel the authentic glamping atmosphere if you rent one of the big family tents that are most well-equipped with all the facilities you need for your holiday.
Whichever type of accommodation you choose, you get free access to all the camp site facilities.
Rent a canoe and enjoy nature
It is recommendable to rent a canoe and go exploring the most beautiful part of the Gudenå, when staying at Gudenå Camping. Try sailing with the current from the camp site in Bredstenbro to Klostermølle, which is easily manageable on a day trip. You can also choose to have your canoe transported to Tørring and then sail to Bredstenbro.
You are more than welcome to rent a canoe at Gudenå Camping even if you are not staying there. Included in the price are life jackets, maps and canoe transportation. You choose where you want to start and end your trip.
We recommend, that you book the canoe some time in advance.
Close to the big attractions of Eastern Jutland
Gudenå Camping & Canoe Rental is located within short driving distance of some of the oldest and most exciting cities of Eastern Jutland, such as Horsens, Silkeborg and Aarhus that each offer great cultural experiences. The caravan site is the perfect base if you wish to visit attractions such as ARoS, FÆNGSLET (The Prison), Himmelbjerget (The Sky Mountain), and LEGOLAND during your holiday in Central Jutland.
Only five kilometres from the site is Den Genfundne Bro (The Uncovered Bridge), and there are many great hiking routes, bicycle routes and vista points nearby.
Book your caravan holiday
At the Gudenå Camping website you can book your stay. You are also welcome to contact them and hear more about the options.