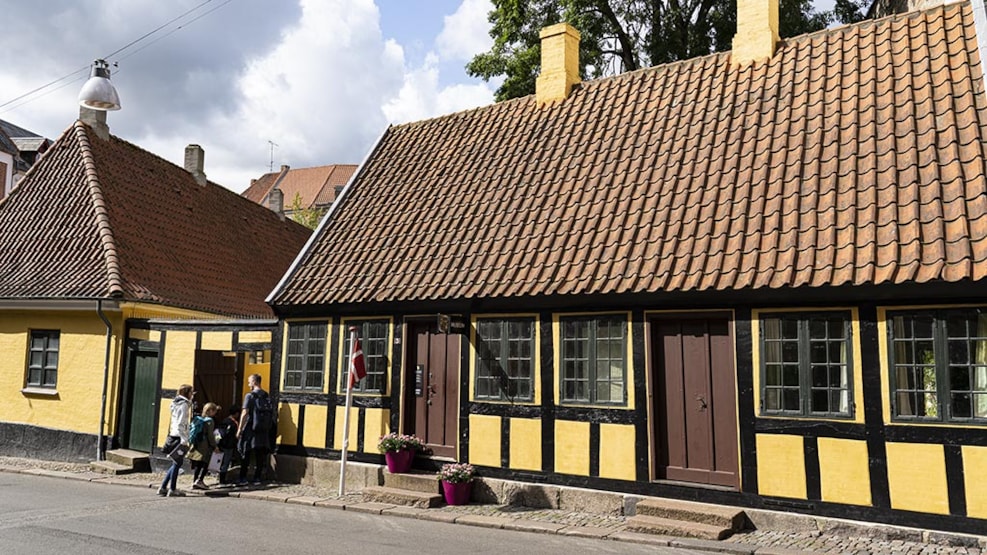 Hans C. Andersen's Childhood Home
In Munkemøllestræde, close to the Odense Cathedral, the river and the Fairytale Garden, you will find the little yellow half-timbered house where Hans Christian Andersen lived with his parents from the age of 2 to 14.
The house opened to the public in 1930. The cobblestone street sets the stage for a visit to the past.
The house contains the very humble rooms which comprised the home of the great fairy tale writer and to which his dearest memories of childhood are attached. Don't confuse this house with the actual museum in the historic quarter, which you can visit also. The rooms mimic Hans Christian Andersen's descriptions in his autobiography and give you a good impression of the poverty that marked his early years.
The charming backyard garden, which was established in 2018, is filled with plants and flowers that Andersen mentioned in his writings, like docks, an elderflower bush and more. The garden is small and surrounded by brick walls separating you from the neighbours. The atmosphere is calm, and it is hard to remember that you are standing in the city centre of Denmark's 3rd largest city.
The Hans Christian Andersen Childhood Home is free for children under 18. Please note that opening hours may differ during holidays, visit the website for further information.