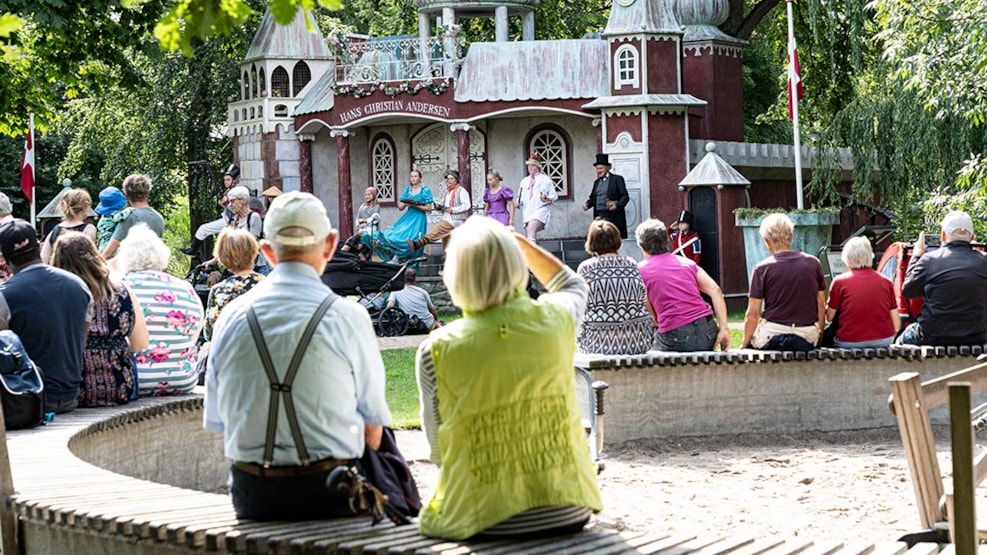 The Hans Christian Andersen Parade
The H.C. Andersen Parade performs on the Fairytale Castle stage in the Eventyrhaven (Fairytale Garden) with the performance, "24 small and large actors, 24 fairy tales, 24 minutes = a real Odense experience" - for more than 30 years! Free admission as always!
Join us in the garden when Odense's most popular H.C. Andersen actor and all the children entertain on the stage by Odense River, just behind Odense Cathedral. The kids love the show and come back year after year - both behind and in front of the stage. The parade only cancels if it rains so much that it is not safe to complete.

You can also meet the parade every Monday to Friday at 12.45 in front of Odense City Hall on Flakhaven when the proud, beautiful, white swan comes out the front door to greet "The Ugly Duckling" - and all the rest of us!

On Saturday, you can meet the H.C. Andersen Parade from 12.30 as they march through Vestergade. Lovely photo opportunities.
We accompany the guests to Eventyrhaven past the cathedral, the Andersen statue and arrive at the stage where the audience can take a seat on the grass and experience the popular, internationally award-winning performance!