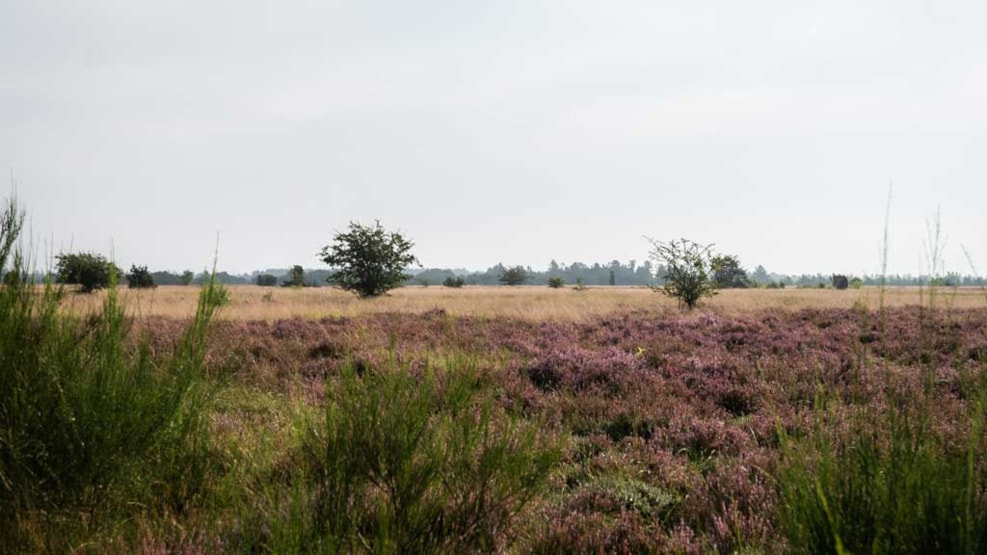 Harrild Moor
In the middle of the municipality of Ikast-Brande, you find the beautiful open heath, Harrild Hede. The heath is a protected area and offers unique natural landscapes covered in heather, with woods and clean watercourses. Harrild Hede is the ideal starting point for hiking trips with friends or family.
On the heath, you can see rare animals and vegetation only present at heaths, such as teals, black woodpeckers and shrikes as well as huge herds of both roe and red deer. In addition, the characteristic heath flowers form a beautiful view.
Grant Nature Experiences and Peaceful Moments
Together with Nørlund Plantation, Harrild Hede covers approximately 3000 hectares of beautiful nature experiences and room for peaceful moments. A hike across the heath will lead you through a varied and impressive heather-covered landscape, with twisted rivers, plantations, fishing waters and historical remains, such as the old viaduct.
Hiking routes: Yellow 8 km/ Blue 2 km/ Red 4 km/ Purple 2 km, for disabled persons.
Harrild Heath Nature Centre
On the bank of Holtum Å, the new Harrild Hede Nature Centre is located - now a modern classroom for all ages. Many interesting historical and cultural experiences await you here, and by the nature centre, you also find a great nature playground with both tables and benches – making it a perfect spot to enjoy your brought lunch.
You are more than welcome to get a brochure about the area at VisitIkast-Brande.