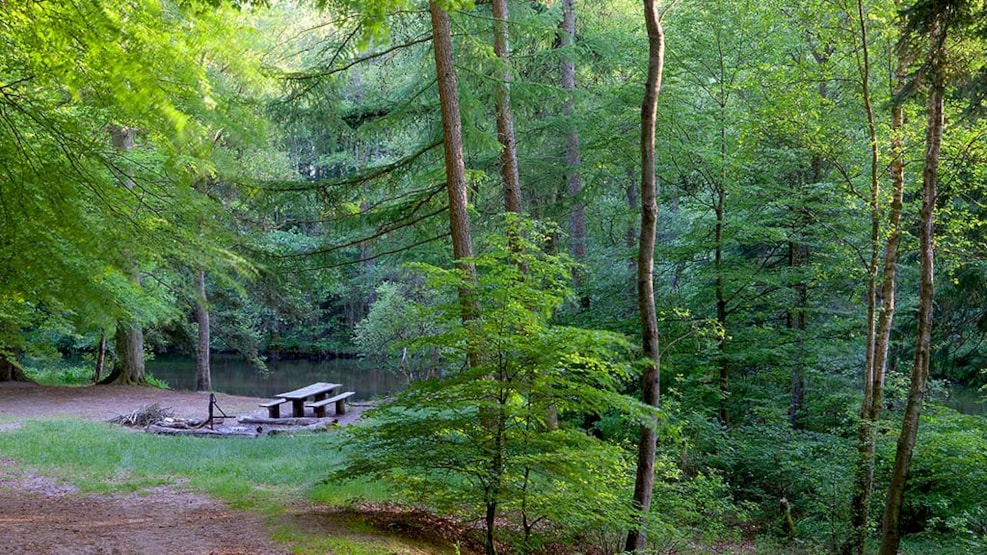 Hastrup Plantage
North of Give you will find the beautiful woodland plantation Hastrup Plantage, which offers good hiking routes. In the eastern part od the woodland is forested Hastrup Lake, through which the Skjern River flows. In the area close to Hastrup Lake, there is a lovely forest playground with a fire place and barbecue area and covered picknic areas as well as a nearby shelter area.
Hastrup Plantage is a woodland plantation created in 1877 on reclaimed natural heath. The plantation, located southwest of Ejstrupholm where the rolling downs of the Jutland Ridge meet the western plains, offers scenic settings of great natural beauty. 
Lush oak woodland and grazing Highland cattle surround the nearby Hastrup Lake through which the Skjern River meanders on its way to the West Coast of Jutland.
The local wetlands were created when the Galtkær River was dammed to reduce the intake of natural ochre in Skjern River into which it flows. A bird watchtower is available at Galtkær where there is abundant birdlife.
The plantation offers marked hiking trails. South of Hastrup Lake, east of Hastrupvej, you find a forest adventure playground complete with a campfire picnic site. 
Day licenses for angling in the lake of Hastrup Sø can be purchased from the Chairman of Thyregod Sportsfiskerforening (Thyregod Sports Angling Association), Kurt Lundsfryd, Tel. +45 2179 5505 and email: kurtlundsfryd25@gmail.com. The season starts 1 May and finishes 1 November.