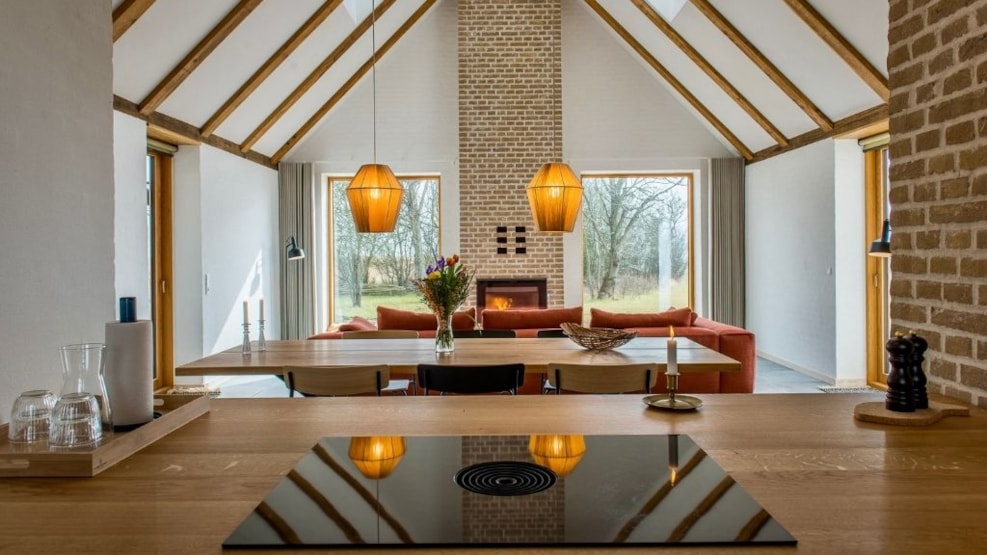 Havmøllen Holiday Apartments
At the foot of Jernhatten and with panoramic views of the Kattegat and Hjelm, guests in Havmøllen's holiday apartments will be able to enjoy Denmark's most beautiful natural area in exclusive surroundings.
Located in Mols Bjerge National Park, Havmøllen's holiday apartments are close to all the best Djursland has to offer. Magnificent nature and cultural experiences; Ebeltoft Gårdbryggeri (1.6 km), Ree Safari Park (6 km), Stubbe Sø bird sanctuary (7 km), Ebeltoft town (9.8 km), Grobund (14.7 km), Friland (18 km) and much more.
The home
Living room: The apartment is furnished with a large living room with exposed rafters up to the ridge.
Bedrooms: With ample space for 6 sleeping guests, the 3 bedrooms are furnished with two double beds and two single beds.
Kitchen: The kitchen is fully equipped with crockery, cooking utensils, kitchen appliances, dishwasher, refrigerator and freezer and plenty of storage.
Utility room: A small distribution corridor between the kitchen, bathroom and living room contains a washing machine and dryer, as well as space to arrange laundry for everyday needs.
Bathrooms: Modern bathrooms with shower and toilet services the apartment.
See what others are sharing on Instagram