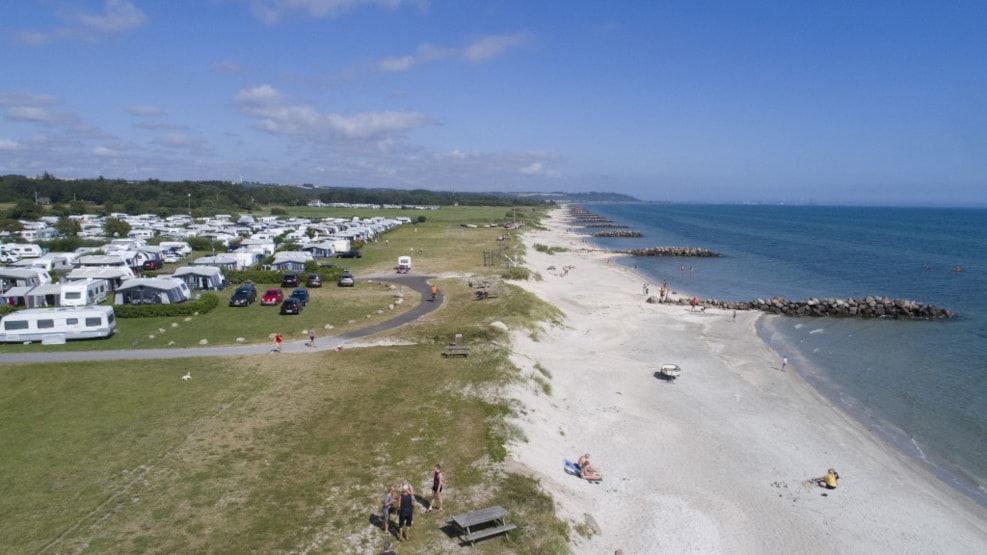 Hedebo Strand Camping
Come camping in beautiful Sæby with lots of facilities and experiences for both children and adults during the summer period.
Since the 50s, Hedebo Strand Camping has been located on the beach by beautiful, idyllic Sæby.
At the campsite you will find 16 standard cabins and luxury cabins and more than 600 spots for motorhomes, caravans and tents.
If you do not own a tent or caravan, you can rent a cabin or caravan.
Enjoy life on the sun terrace in the shade of palm trees in the water park or go for a swim in Kattegat. You can sail your boat, fish, surf, soak up the sun, take walks in nature or maybe just enjoy the view of the sea. Hedebo Strand Camping is a short walk along the beach promenade to Sæby.
Sea, beach and fresh air are just some of the things you can enjoy here in North Jutland. There is also mini golf, tennis court, table tennis, multi-arena, bouncy castles, playgrounds, game room, TV lounge and luxury kitchen with sea views. Borrow a computer at the reception or rent access to wi-fi for the whole season.
The four service buildings have 19 family bathrooms, the supermarket has a large selection and the café gives you the opportunity to avoid cooking.
Short distance to experiences in Sæby, Skagen, Voerså and Frederikshavn.