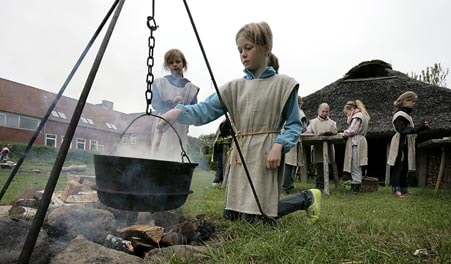 Heltborg Museum / Sydthy Kunst- og Kulturcenter
In Heltborg you can examine the old agricultural implements from before the tractor, study beautiful paintings from the area and sniff smoke from the Iron Age house's campfire site.
In addition, the unique location overlooking the Limfjord.
The museum offers exciting special exhibitions and events throughout the year.
Heltborg Museum is handicap friendly with ramps and handicap toilet.
Tools, reconstruction and revitalization
The Cultural History Department houses a large collection of agricultural implements from the first half of the 20th century.
Outside the museum, a reconstruction of an Iron Age house has been erected, the dimensions of which are taken from an archeological excavation nearby.
In the summer, there is a revival and children's activities on the Iron Age site for the benefit of the visitors every year in the month of July.
Sydthy Art and Culture Center
Heltborg Museum's art department houses several artists associated with Thy. Their works are exhibited occasionally. Paintings, drawings and lithographs by Jens Søndergaard (1895-1957) and works by Leo Estvad and Ellen Raadal, and sculpture exhibition by Erland Knudssøn Madsen are a regular part of the exhibition.
At Heltborg Museum, the local poet Hans Bakgaard has his own memorial room. He was a good singer and dreamed of a singing career. Therefore, he went to America, but he returned home disappointed and settled on his childhood home at Ydby. He became a poet and even published his own collections of poems and dilettante pieces. For some years he also arranged hometown concerts in Ydby.
Activity all year round
During the year there are various activities for all age groups.
Heltborg Museum is part of Museum Thy.