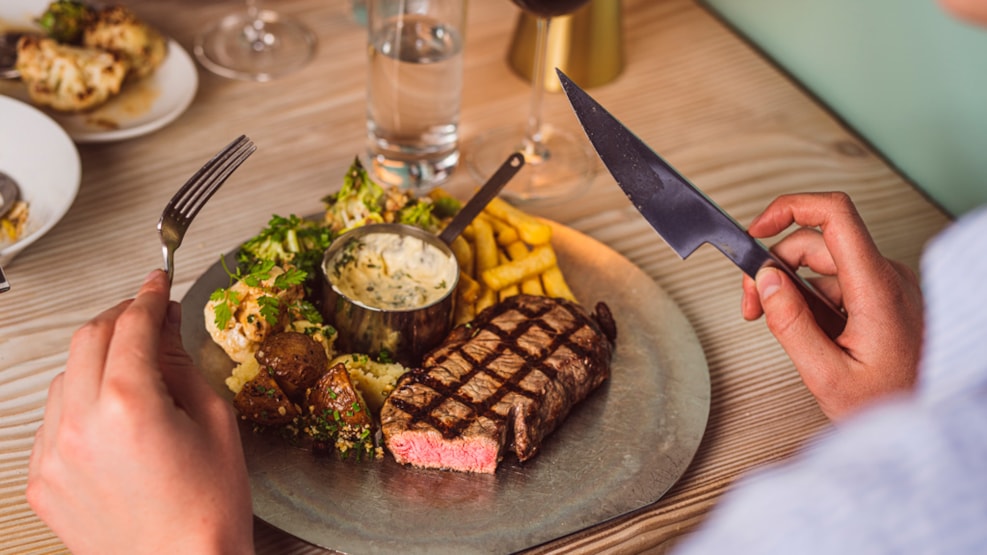 A Hereford Beefstouw - Lund, Herning
A Hereford Beefstouw in Lund near Herning is the chain's first restaurant. In 2021, they can celebrate an impressive 50th anniversary. Their menu offers tender and juicy steaks for all tastes as well as delicious starters and vegetable sides. On the wine list you will find a wide selection of quality wines from around the world, which compliment the various cuts to perfection.
Denmark's oldest steak house
A Hereford Beefstouw in Lund near Herning, which is known for its beautiful, rural surroundings near Herning and is housed in an old grocery store and inn from 1846. The Damgaard family bought the building in 1970, and on April 7, 1971 the first steak was laid on the grill at the restaurant in Herning. It is behind these historic walls that a complete experience awaits you and your companions - from the tasty meal on the plate to the art on the walls and the knowledgeable and helpful staff. At A Hereford Beefstouw, we are only satisfied when our guests leave the restaurant with full stomachs, a smile on their face and a more complete experience.
The meat in the center
At A Hereford Beefstouw, it's about premium beef. For more than 50 years, we have been developing our concept - constantly focusing on the meat. A juicy and tender piece of beef, perfectly cooked on the open grill is the essence of A Hereford Beefstouw restaurant Herning. We invite you around all corners of the world, where we have for many years found the most tasty beef. Whatever cut you choose, you are guaranteed an intense and unforgettable taste experience of freely bred cattle that have lived a good life. You can taste it! For their steaks, they always have 4 delicious kinds of vegetable sides that can be purchased.