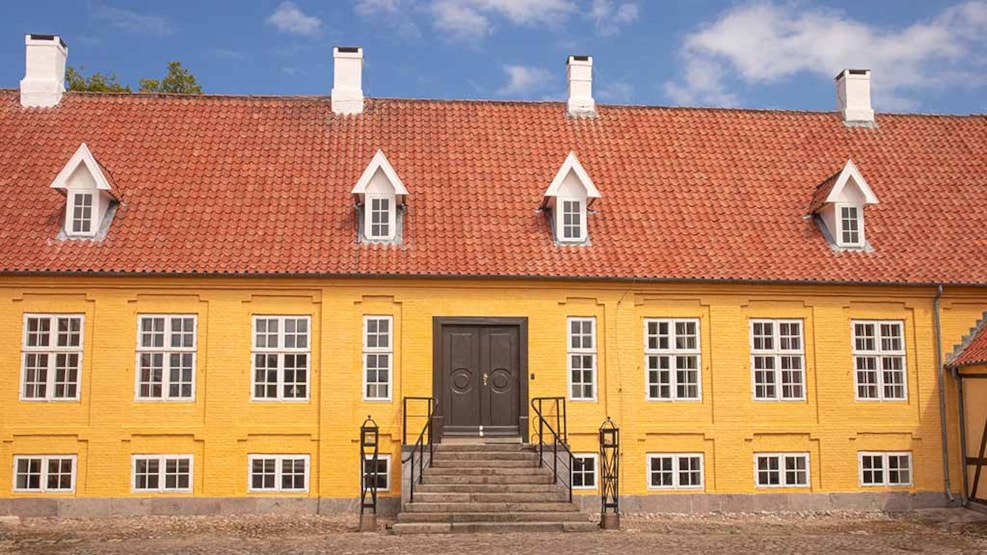 Hofmansgave
The manor Hofmansgave has existed since 1483, and at that time it was located on an island in Odense Fjord. But now you don't have to get wet feet just to go there. Since then, the manor has changed owners and names many times, until it finally got the name Hofmansgave in 1784.
The manor house Hofmansgave was originally built in 1588, but the first time a manor house in the area was mentioned was in 1483, when it was called Knyle. The nobleman Frederik Quitzow from Sandagergård near Bogense bought Knyle and demolished the original building and moved 300 meters away to a new building, which he had built and called Quitzowsholm. He also bought the Hasmark estate, and since then much of the Hasmark area has belonged to the manor. The estate had a number of owners in the 17th and 18th centuries, including Jørgen Rosenkrantz, who established a brickworks and sold bricks to Copenhageners in the early 18th century.
Hofmansgave is located on a former island in Odense Fjord surrounded by meadows and low-lying fields. The island became landlocked with Funen in 1756.
The current main building was built in 1784-87 in simple Baroque style, while the side wings are half-timbered. It was built by conference councilor Niels de Hofman, who bought the manor house in 1783 and had a large part of Quitzowsholm demolished and built a new one and called it Hofmansgave. He became the first manor owner of the Hofman family and had the manor included in a testamented house, which was handed over to his sister's grandson Niels Bang. Since then, the manor belonged to the Hofman-Bang family.
The Hofman-Bang family lived on the manor for several generations until the last direct descendant died in 1972. They were all scientists, botanists and artists, and therefore agriculture and the park were more interesting to them than the manor itself.
Estate and park
Hofmansgave is now a foundation and can only be seen from the outside. Today it's a modern farm with milk production and cultivation of wheat, corn and spinach seeds.
All year round, from sunrise to sunset, there is access to the manor park with many rare trees and plants. It was founded and maintained by the botanists of the Hofman-Bang family.
⇒ Read more about Hofmansgave Park
The park also houses the Danish Potato Museum, which is open from Easter to October. There is free admission.
In one of the buildings is the small sketch museum with sketches and sculptures made by the sisters Ellen and Ausa Hofman-Bang. The Hofman-Bang sisters became the last inhabitants of the estate. The museum is open from Easter to October. Admission is DKK 10, -, which goes to maintenance.