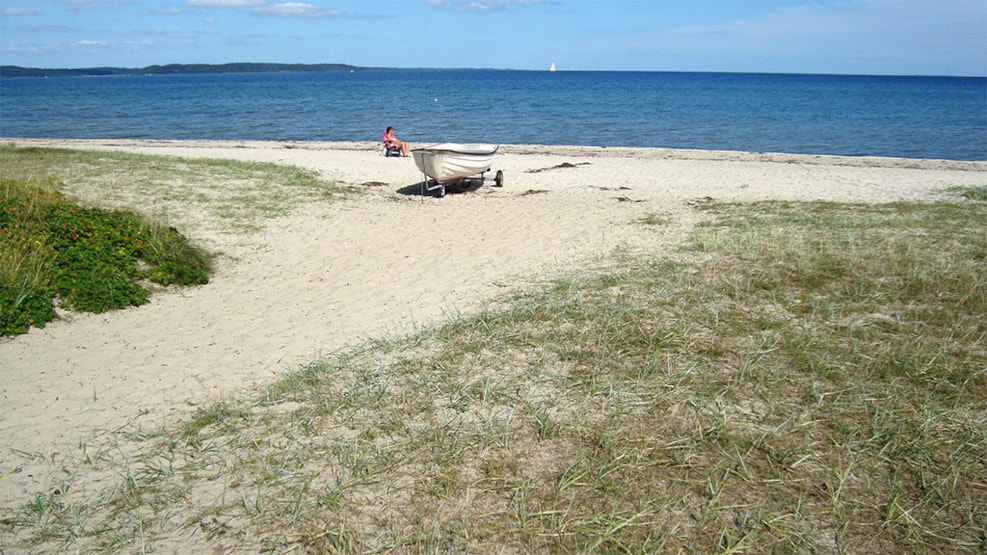 Høll Beach (the Flat Beach)
Høll Strand, Fladstranden, is a wide and stone-free beach on the south side of Vejle Fjord between Vejle and Fredericia close to Rands Fjord. Visit the handicap- and child-friendly beach with kiosk and toilets.
Between Vejle and Fredericia you find the popular beaches of Mørkholt, Hvidbjerg and Høll (Fladstranden). Høll Strand (Høll Beach) with its wide, stone-free and inviting shore reaches as far south as the small harbour at the mouth of Rand Fjord.
Disabled people can park in the carpark at Børnenes Vel. Access to the shoreline is via a ramp.
There is no public parking at Høll Strand, but there is ample roadside parking on Hvidbjergvej just a few hundred metres from the beach.
The family-friendly beaches, the fine quality of bathing water and the beautiful nature make the entire stretch from Mørkholt to Høll a popular destination for summer visits. Here, you will find holiday homes, campsites, good parking and shopping.
The National Cycle Route No. 5, The East Coast Route, passes through the area.
Bus No. 204 passes Høll on route between Vejle and Fredericia.