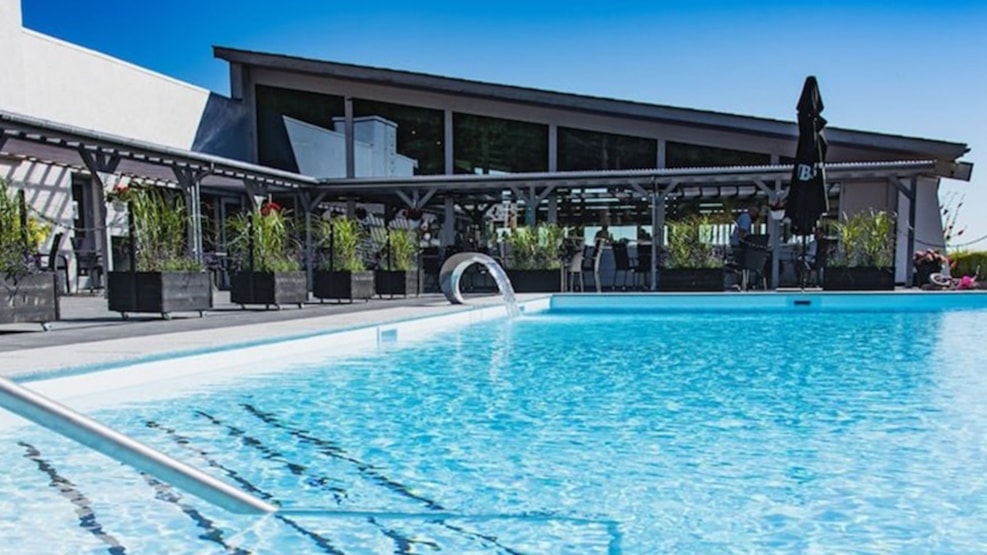 Hotel Abildgaard
Abildgård is one of Bornholm's most popular resorts. This is of course due to the combination of the lovely location in Sandkås close to the sea and the beach, lovely rooms, as well as the fact that both breakfast and a lovely evening buffet are always included in your rental price.
Hotel Abildgård is therefore often called "Abildgård – All inclusive". Every evening you can look forward to a large, varied buffet prepared by the hotel's head chef. Unlimited drinks during dinner (draft beer, wine and soda) are also included in your rental price. And if you have a sweet tooth, ice cream and cake for dessert are also included. The same of course applies to coffee and tea.
During the day, coffee, tea and juice are at your disposal free of charge, so that you can enjoy yourself by the hotel's lovely swimming pool and regularly collect drinks.
The swimming pool is ready for you
Right next to the restaurant building is the hotel's swimming pool (heated 15 May – 15 September). Take a dip – or perhaps a game of billiards, table tennis or board games in the hotel's cozy living rooms is more tempting? For the children there is also a playground.
The history of Hotel Abildgaard
The German art dealer, Herbert von Gravens, fled during the Second World War to Bornholm, where he chose to settle on the farm Abildgård in Sandkås. The farm was idyllic with a view of the Baltic Sea and surrounded by lots of apple trees. Soon an artist collective was created, which attracted famous avant-garde artists such as Carl-Henning Pedersen and Asger Jorn. In the 1970s, the land in front of Abildgård was subdivided and converted into Hotel Abildgård, so that today you can have a wonderful holiday in beautiful surroundings.