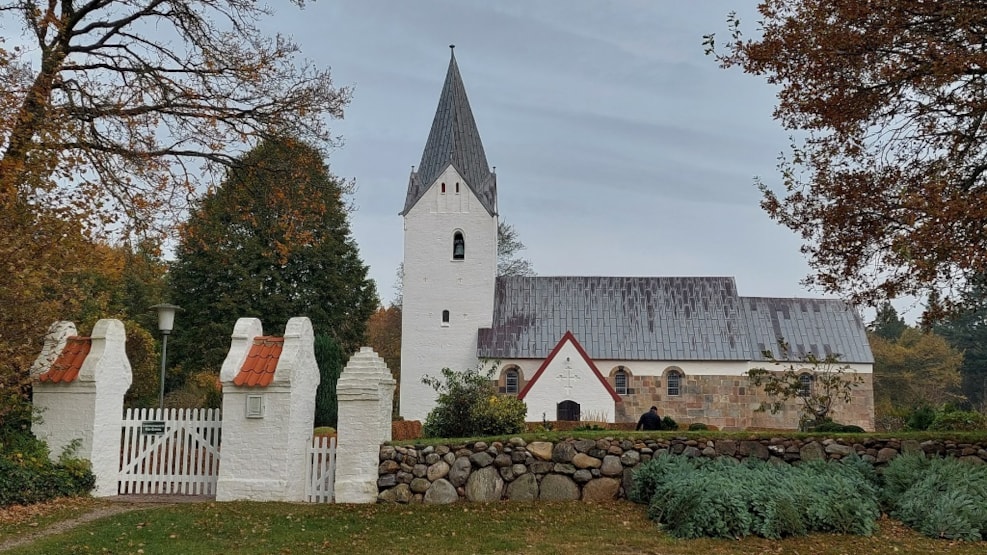 Husby Church
Husby Church is a whitewashed Romanesque square stone church built in the 13th century.
The tower and porch have been added in the late Middle Ages.
The church's altarpiece dates from the 16th century and the large crucifix figure on the north wall of the church is probably late Gothic. In the choir is the church's Romanesque granite baptismal font, which is decorated with narrow arcades, formed by rope sticks. The pulpit dates from the 17th century.
The sand flight
In the middle of the 19th century, the church was becoming true. The inhabitants of Husby feared for the fate of their church, and four peasants were sent on foot to Copenhagen. Here they complained of their distress to King Frederik the 7th, who sympathized with the peasants. The king therefore sent a letter in which he promised to send a forester, and that all the inhabitants of Husby should help him.
Forester J.A.J. Drewsen from Tikøb in North Zealand came to Husby the same year. He brought plants and seeds, which were sown in Husby Klit and reduced sand escape. Read more about Husby Klitplantage here.
Commonwealth War Graves
In the northeast corner of the cemetery are 4 memorial stones to Allied pilots and sailors who perished during World War I and II.
Husby Church is only approx. 3 km from the North Sea.