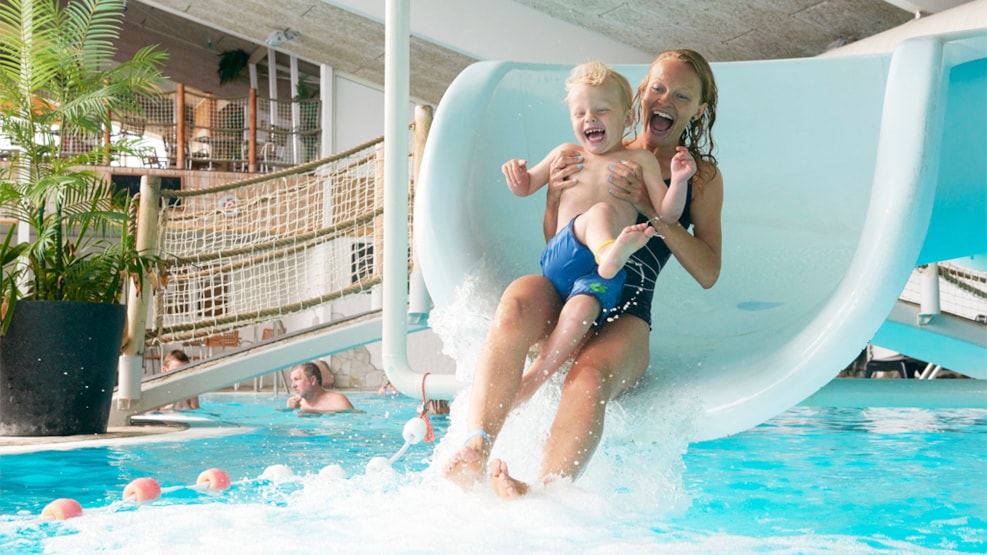 Hvidbjerg Strand Resort Water Park
Put a smile on your face and warm your body in Hvidbjerg Strand's large tropical water park, which is for the whole family. Badelandet is part of Hvidbjerg Strand Resort and offers activitiess for young and old alike.
In the Water Park, you can enjoy a fun day full of fantastic activities, including the 70-metre-long, wild slide 'Det Sorte Hul' (The Black Hole), jump and splash in the children's pool, and visit Scandinavia's only stalactite cave and a warm climate all year round.
The Water Park offers water, speed and fun games for everyone to enjoy. The Water Park is for the whole family and has been designed with both young and older family members in mind. You can expect a rollicking fun water park that will often leave the whole family feeling tired, happy and full of memorable moments.
The Water Park offers four fun slides, an underground cave, a splashing pool and sauna and spa. In addition, the water park is also the only water park in Scandinavia with a stalactite cave.
If you are a guest at Hvidbjerg Strand Resort, there is free admission to the Badelandet water park once a day.