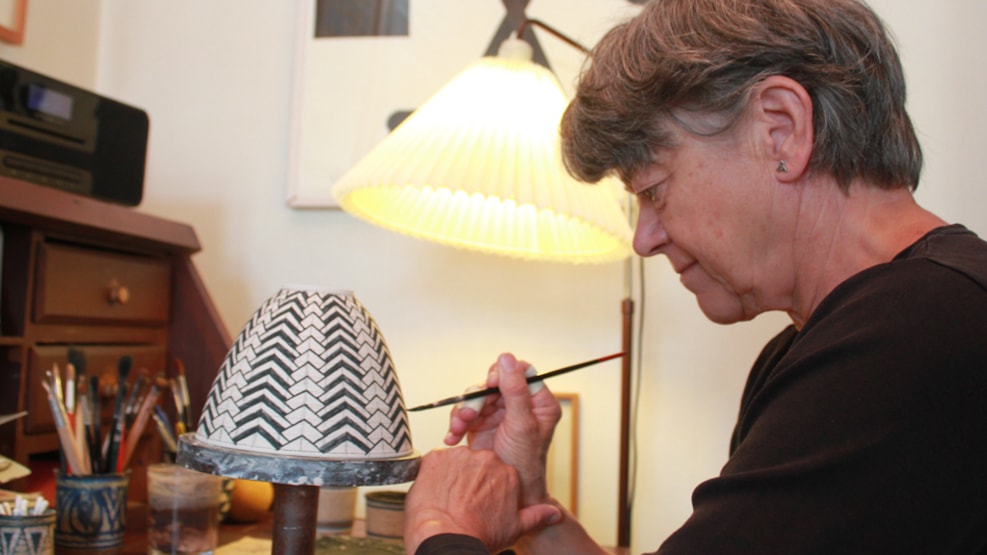 Kirsten Winther Johannsen
In the little village - Henne St. by close to the beach in Henne Strand, Westjutland - you´ll find a stoneware workshop and gallery - owned by Kirsten Winther Johannsen. Her works, which consist of both utilityware (teapots, mugs, bowls etc.) and one-of-a-kind items, are hand - thrown and decorated. 
In Henne Stationsby ​​you will find Kirsten Winther Johannsen shop and ceramics workshop. Here she produces unique work in stoneware, such as bowls in many sizes, jugs and dishes. Her work is kept in the colors gray, blue and black, and is characterized by their tight decorations. The unique works are, among other things, inspired by ethnography from around the world.
Her work can also be found in the museum shop at Esbjerg Art Museum, the Janus Building West Jutland Art Museum in Tistrup and Gallery 55.
Since 1968 have Kirsten Winther Johannsen worked with ceramics, and since the year 2000 her own workshop has been located in Henne Stationsby. The workshop is located close to the scenic Filsø, Henne Strand and Blaabjerg plantation.
Kirsten Winther Johannsen's unique works undergo a longer process, and are, among other things, hand-turned and burned twice.
Workshop and exhibition are located 8 km from Nørre Nebel and 9 km from Henne Strand.